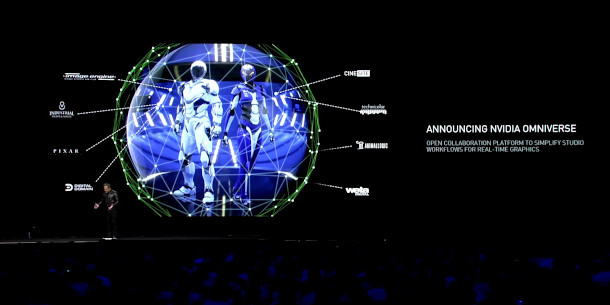 Nvidia has unveiled Omniverse, a new "open collaboration" platform for 3D production pipelines, during the keynote at its own GPU Technology Conference.
The platform, which is built around Pixar's USD format, will enable users to see changes made to common assets by other artists, working in other software, in real time.
Aiming to become 'the Google Docs for 3D design'
In the keynote – we can't embed the recording, but you can find it here: the relevant section starts at 00:41:20 – Nvidia CEO Jensen Huang describes Omniverse as "essentially the Google Docs for 3D design".
The system enables users anywhere in the world to collaborate on a project via the internet.
It "works with all of the major 3D applications" – the live demo showed Maya, Substance Painter and Unreal Engine – registering changes made to a scene in any of the source apps.
The combined result is rendered in real time, with the rendered output streamed back to the collaborators.
As well as enabling simultaneous viewing of assets, Omniverse provides users with "frictionless asset management, layers and version control".


Nvidia's demo of Omniverse. Changes to common assets made by artists working in Maya, Unreal Engine and Substance Painter (left of screen) are combined and rendered in real time in the Omniverse viewer.

Based on USD, MDL, PhysX, Hydra – and RTX
The backbone of Omniverse is USD, Pixar's Universal Scene Description format for complex visual effects scene data, which it open-sourced in 2016.
Changes to materials are transmitted via Nvidia's own Material Definition Language (MDL), open-sourced last year, which seems to have been chosen over the – at present – less widely supported MaterialX.
Nvidia's PhysX real-time physics system – also open-sourced last year – is used for dynamics, and USD's Hydra framework as a rendering architecture.
The one part of the process that isn't built on an open standard seems to be rendering itself, which takes advantage of Nvidia's RTX architecture, used in its new Quadro RTX, Titan RTX and GeForce RTX GPUs.
Nvidia describes Omniverse viewer as a "real-time ray traced RTX viewer with native support for multi GPU".
It isn't clear from the presentation whether RTX is actually obligatory, or if there is some kind of fallback for other manufacturers' hardware.
In the keynote, Huang noted that it would be possible to install Omniverse on a local workstation running RTX hardware, in a data center, or on a cloud instance.
Since only the rendered frames need to be streamed back to the users, the ray traced output could be viewed even by artists working on low-end hardware like consumer laptops.
Availability and system requirements
Omniverse is currently in early access. Studios interested in testing it can apply for the 'lighthouse program' via the link below. Nvidia hasn't announced system requirements or a release date yet.

Read more about Omniverse on Nvidia's blog
Apply to join the Omniverse early access program
Tags: asset management, asset viewer, collaboration, Google Docs for 3D, GPU Technology Conference, GTC 2019, Hydra, material definition language, Maya, MDL, NVIDIA, Omniverse, open standard, physics, PhysX, Pixar, price, ray tracing, real time, release date, remote collaboration, rendering, RTX, Substance Painter, system requirements, UE4, Universal Scene Description, Unreal Engine, USD, version management