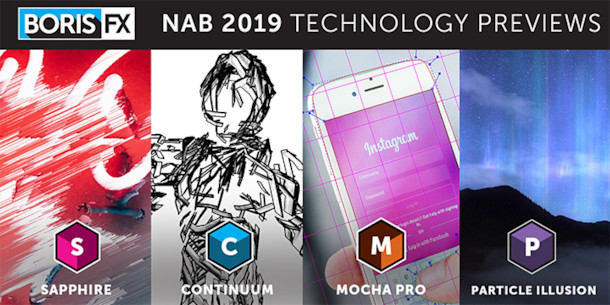 Boris FX has unveiled Mocha Pro 2019.5, the next version of its planar tracking software, plus Continuum 2019.5 and Sapphire 2019.5, the next versions of its effects plugins for compositing and editing apps.
Key changes include integration between Continuum's Title Studio plugin and Cinema 4D.
Particle Illusion, the veteran particle animation tool relaunched as part of Continuum last year, will also become available as a standalone rendering tool.
All of the products will be on show at NAB 2019, though Boris FX hasn't yet announced release dates.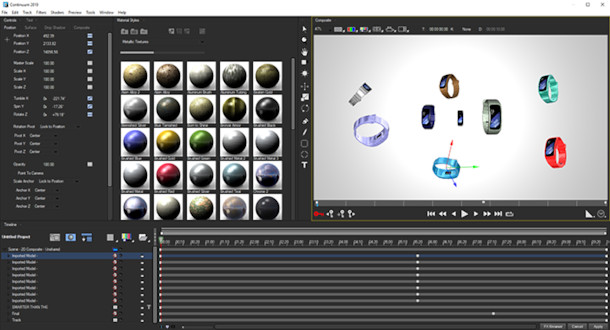 Continuum 2019.5: C4D integration for Title Studio, new standalone version of Particle Illusion
In Continuum, the main change is the new integration between titling plugin Title Studio and Cinema 4D, the Lite edition of which is included with After Effects.
Boris FX describes the integration as bringing users a "brand new 3D model render engine". Title Studio also gets new material shaders and UI support for 4K monitors.
In addition, particle tool Particle Illusion, previously only available as a plugin, will also become available as a standalone rendering application. Boris FX hasn't announced pricing yet.
The firm summarises the other new features in Continuum 2019 as follows:
Particle Illusion: Adds a Forces feature which includes deflectors and attractors and a new customizable sprites feature.
Primatte Studio: The Academy Award-nominated keying tech adds a spill control option along with new edge smooth options for heavily compressed source shots.
Transitions: Adds Particle Illusion Dissolve, a new self-animating transition. Users can choose any particle emitter to create a fully-customized transition or pick from dozens of presets.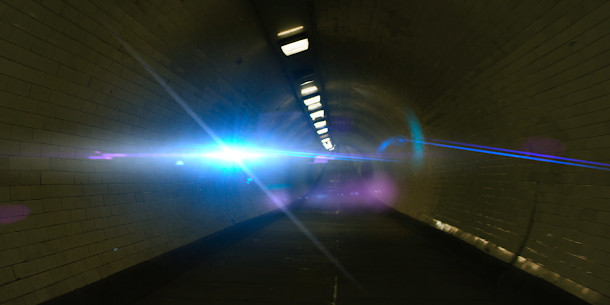 Sapphire 2019.5: support for HiDPI and broadcast monitors
Sapphire users get better UI support for HiDPI displays, and support for AJA and Blackmagic Design broadcast monitors. Boris FX summarises the new features  as follows:
New effects and transitions: ParallaxStrip effect, PixelSort transition, DigitalDamage transition.
Improved functionality: Sapphire Builder, Preset Browser, and Flare Designer can now access clips directly from a composition or timeline. Each features an updated GUI for HiDPI and Retina-enabled monitors.
Broadcast monitor support: Compatible with Sapphire Builder and Flare Designer (AJA and Blackmagic).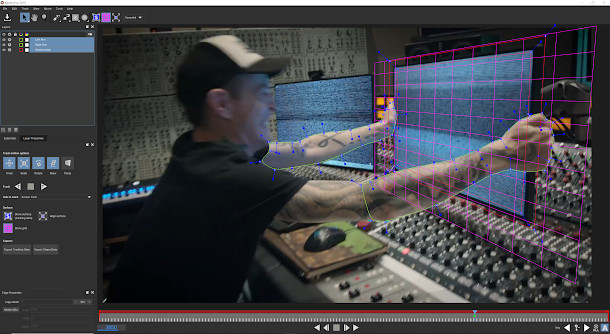 Mocha Pro 2019.5: improved spline tools, better GPU support
Mocha Pro users get improvements to the spline tools and further support for GPU acceleration. Boris FX summarises the new features as follows:
Improved spline tools: Adds edge-snapping features for accurate masking with fewer keyframes.
New GPU matte optimisation: Makes complex Mocha projects more interactive with significantly faster renders.
New host support: Will preview long-awaited support for DaVinci Resolve.
The firm has also announced some of the features due in future release, including a new Area Brush paint tool for definining planar tracking regions, and a new 'Mega Clean Plates' option for building larger-than-raster panoramas during object removal work.
Pricing and system requirements
Boris FX hasn't announced release dates for Continuum 2019.5, Sapphire 2019.5 or Mocha Pro 2019.5 yet. All three updates will be free to registered users of the 2019 editions.
Each is priced according to which host platform you buy it for: there are typically separate prices for Adobe, Apple, Avid, Autodesk, OFX tools and/or multiple hosts.
Continuum 2019 costs from $695 to $1,995. Sapphire 2019 costs from $1,695 to $2,795. Mocha Pro 2019 costs from $695 to $1,495. You can check which versions of the host apps are compatible here.
Read more about Continuum 2019.5, Sapphire 2019.5 and Mocha Pro 2019.5 on Boris FX's blog
Tags: AJA, Blackmagic Design, Boris FX, broadcast monitor, Cinema 4D, compositing, Continuum, Continuum 2019.5, editing, effects, free update, GPU acceleration, HiDPI, mocha Pro, Mocha Pro 2019.5, NAB 2019, object removal, Particle Ilusion, planar tracking, plugins, price, Sapphire, Sapphire 2019.5, system requirements, Title Studio, vfx