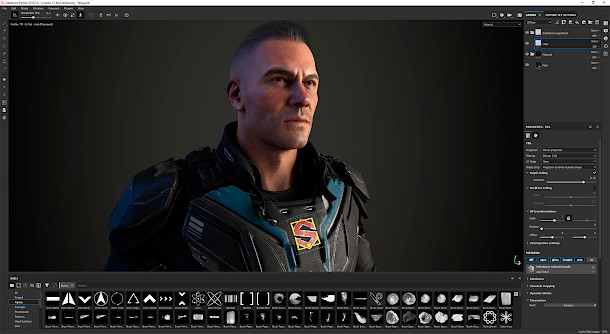 Allegorithmic has announced the new features coming up in the next release of Substance Painter, its 3D texture painting software during its Substance Day event at GDC 2019.
The update, which is shown as Substance Painter 2019.1 in Allegorithmic's screenshots, will feature radial symmetry, new height-blending options for materials and new projection modes.
New symmetry, texture projection and material-blending options
At the time of posting, there doesn't seem to be a recording of any of the Substance Day sessions online, so we only have the brief summary of the new features from Allegorithmic's blog, including:
Radial symmetry
Dynamic strokes – with "plenty of new content added"
Blend if – for blending materials based on height
New Planar and Spherical projection modes
In addition displacement and tessellation are now supported in Substance Painter's OpenGL viewport and displacement in the integrated Iray renderer.
The release will also add new functions to Substance Painter's scripting API,
Pricing and availability
Substance Painter 2019.1 is due to ship in April 2019. The current release, Substance Painter 2018.3, is available for Windows 7+, CentOS 6.6/Ubuntu 16.04 Linux and Mac OS X 10.11+.
New Indie licences, intended for artists and studios earning less than $100,000 per year, cost $149, including 12 months' maintenance. Further updates cost $75/year. A floating Pro licence costs $990.
Read a brief overview of the new features in Substance Painter 2019.1 on Allegorithmic's blog
Visit the Substance Painter website
Tags: Allegorithmic, blend if, displacement, dynamic strokes, GDC 2019, height blending, iray, material blending, new features, OpenGL, planar projection, price, radial symmetry, release date, scripting, spherical projection, Substance Painter, Substance Painter 2019.1, system requirements, tessellation, texture painting, texturing