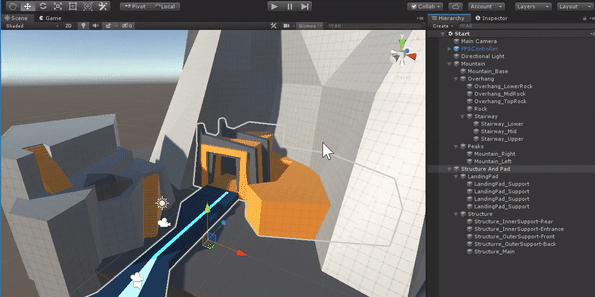 Unity Technologies has released Unity 2019.1 in beta. The first of this year's cycle of updates to the game engine adds a scene visibility system and extends the functionality of the experimental GPU lightmapper.
New scene visibility controls and visual shortcut manager, better GPU lightmap baking
For artists, key changes in Unity 2019.1 include the new scene visibility (SceneVis) controls, which enable users to show or hide objects in the Scene View without changing their visibility in-game.
Visibility can be toggled via keyboard shortcuts or from the hierarchy, as shown above.
The GPU Progressive Lightmapper, a GPU-based alternative to the existing CPU-based lightmap baking system introduced as a tech preview in Unity 2018.3, has also been updated.
It now supports double-sided GI on materials and shadow casting and receiving on meshes, and is now enabled in the Linux and macOS versions of the Unity editor as well as Windows.
The update also makes it possible to manipulate particle data using the new C# Job System, and introduces support for Nvidia's AI-driven OptiX denoising technology, widely used in offline renderers.
Workflow changes include a new Shortcut Manager: a visual interface for mapping editor hotkeys.
Programmers get an experimental new incremental garbage collection system, clickable stack trace links in the editor console, and improvements to the process of generating and debugging Android builds.
Pricing and availability
Unity 2019.1 is available in beta for Windows 7+ and Mac OS X 10.11+. Unity Technologies hasn't announced timings for the official release yet.
The software is available on a rental-only basis: free Personal subscriptions have a non-editable splash screen and can be used by anyone with revenue of up to $100,000/year.
Paid Plus and Pro plans cost $35/seat/month and $125/seat/month respectively.

Read a list of new features in Unity 2019.1 on Unity Technologies' blog
Tags: Android, beta, C#, denoising, game development, Game Engine, GPU lightmapper, incremental garbage collection, lightmap baking, new features, OptiX, particle data, particle system, price, release date, scene visibility, SceneVis, shortcut manager, stack trace, system requirements, Unity, Unity 2019.1, Unity Technologies