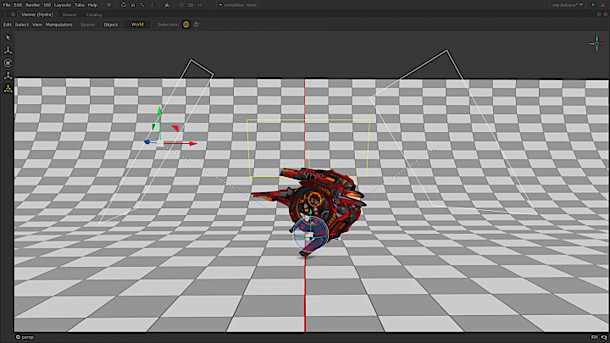 Posted on 5 June 2018. Scroll down for news of the Katana 3.1 update.
Foundry has released Katana 3.0, a major update to its look dev and lighting tool, bundling in a new plugin version of the 3Delight renderer, and introducing a new viewport based on Pixar's USD Hydra technology.
Performance has also been significantly improved: as well as the speed boost resulting from the new viewport architecture, Foundry claims that Katana 3.0 "loads files 1.5x faster" than previous versions.
New, faster viewport based on Pixar's Hydra architecture
The headline feature in the update is the new viewport, which is based on Pixar's Hydra technology.
Hydra, Pixar's OpenSubdiv-based real-time rendering architecture, is used in Pixar's own in-house tools, and forms part of its open-source Universal Scene Description technology.
The major benefit of the change is raw performance, particularly when working with large scenes: Foundry claims that the new viewport is "7x to 10x faster" than its predecessor.
However, there are also a few other design changes, including "a set of artist-friendly transform handles [and] a rich API for creating custom object drawing and manipulators".
Comes bundles with the new 3Delight for Katana plugin
Katana 3.0 also now comes bundled with a new plugin version of the 3Delight renderer, previously used in production on a range of big visual effects movies and animated features.
We discussed the integration when Foundry previewed it at NAB, so check our original story for details.
Foundry also now has a dedicated webpage summarising 3Delight for Katana's major features, including its new Nodal Scene Interface (NSI).
As well as a powerful real-time preview and live light mixing system, the renderer offers "robust" OSL support, and support for key pipeline technologies, including Cryptomatte, XGen and Yeti.
Workflow and performance improvements
Other improvements include a revamped UI, intended to let artists "get more information … at a glance".
The changes are quite specific, but there's a list here, and before-and-after image on Foundry's website.
General performance has also been improved, over and above the new Hydra viewport, with files now opening "1.5x faster than previous versions", and the rest of the program improved by "similar amounts".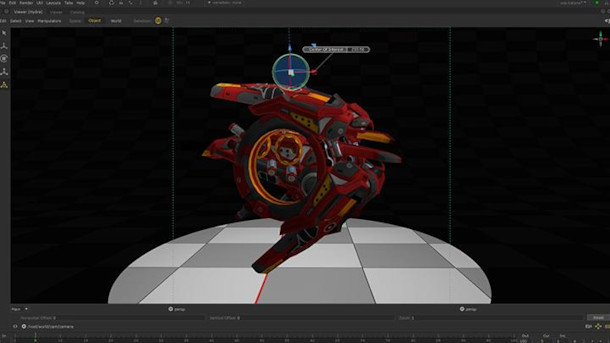 Updated 29 November 2018: Foundry has released Katana 3.1.
The update makes Katana the lastest Foundry application to support the VFX Reference Platform, intended to provide an industry-wide standard for shared code libraries.
In Katana 3.1's case, that means the 2017 version of the spec, although one significant change is a move to the Qt5 UI library.
The update also further improves Katana's Alembic library and 3D scene processing, "drastically reducing time to first pixel for multi-threaded renderer plugins".
The Hydra Viewer gets a number of usability improvements, including hotkeys for common tasks, and can now display object annotations.
The 3Delight rendering plugin has also had several updates since Katana 3.0 was released, including a new Principled Shader based on the industry-standard Disney principled shading model.
Other key changes include a new AOV based on Animal Logic's work on prelit materials, "super fast" multiple scattering in the Volume shader, and automatic texture conversion to mipmaps.
Pricing and availability
Katana 3.1 is available for Windows 7 and CentOS/RHEL 6 Linux.
An interactive licence of Katana costs $8,568; additional render nodes cost $497. 3Delight for Katana comes in a bundle with a render node, priced at $1,000.

Read an overview of the new features in Katana on Foundry's product website
Read a full list of new features in Katana 3.0 in the release notes
Read a full list of new features in Katana 3.1 in the release notes
Tags: 3Delight, 3Delight for Katana, Animal Logic, Cryptomatte, Disney principled, Foundry, free, GUI, Hydra, interactive rendering, Katana, Katana 3.0, Katana 3.1, lighting, look dev, look development, mipmap, multiple scattering, new features, nodal scene architecture, NSI, Open Shading Language, OSL, performance increase, Pixar, prelit materials, price, Principled shader, Qt5, rendering, speed boost, UI, Universal Scene Description, USD, user interface, VFX Reference Platform, VFX Reference Platform 2017, viewport, XGen, Yeti