MoI in action in a teaser for new Gnomon Workshop training video Visual Development for Environments (skip to 00:35 to see it). Developer Michael Gibson has just unveiled version 4 of the NURBS modeller.

Originally posted on 14 November 2017. Scroll down for updates.
Developer Michael Gibson has unveiled MoI 4 (Moment of Inspiration 4), the first update to his intuitive, lightweight NURBS and Boolean modelling software in three years.
The release, which is currently in closed beta for users of MoI 3, makes the software a 64-bit application, improving performance on complex assets.
The update also makes MoI a native Mac application, rather than relying on porting utility Wineskin, as in previous builds.
And that's essentially all the information so far: to judge from the announcment thread on the MoI forums, development work is still at a fairly early stage.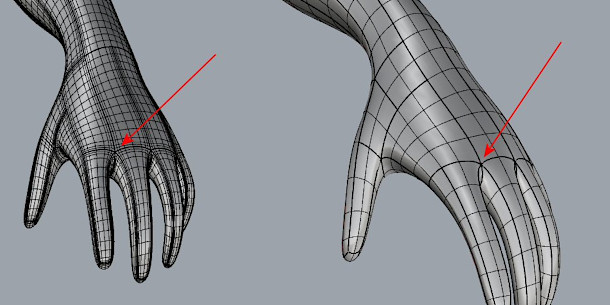 A subdivision surface converted to NURBS in Modo (left) and the latest beta of MoI 4 (right). MoI's new SubD-to-NURBS conversion option when importing OBJ files should preserve G2 continuity in most models.

Updated 22 October 2018: Michael Gibson has released a new beta build of MoI 4 adding the option to convert Sub-D surfaces to NURBS.
In most cases, the conversion should generate a NURBS surface with G2 continuity or greater: there's an interesting comparison with tools like 3ds Max and Modo in this thread on the MoI forum.
The conversion is currently performed automatically when importing OBJ files, but Gibson says that he aims to make it possible to apply it to any Sub-D surface.
Since we last wrote about the beta, there have also been a number of performance improvements, particularly when importing large STEP, IGES, SAT or 3DM files. See the online changelogs here.

Pricing and availability
Gibson hasn't announced a commercial release date yet, but don't expect to see a shipping version too soon: the current release, MoI 3, took three years to go from the original beta to the final release.
MoI 3 itself is available for Windows 2000+ and Mac OS X 10.6+, and costs $295. Anyone buying it will now get MoI 4 free when it ships.

Read about MoI 4 in the announcement thread on the product forum
Read a list of new features in MoI 4 on the product wiki
Tags: 3DM, 64-bit, conversion, hard surface modeling, IGES, Michael Gibson, modeling, MoI, Moment of Inspiration, native Mac version, new features, NURBS, OBJ, OS X, price, release date, SAT, STEP, sub-D, subdivision surface, Windows