Foundry has posted a sneak peek of the new features due in Nuke 11.2, the next update to its line-up of compositing and editorial tools, recorded during product manager Juan Salazar's presentation at FMX 2018.
Nuke gets improvements to the Tab menu and localisation system; NukeX gets GPU support and a new mask input for Smart Vectors; and Nuke Studio gets new options for colour coding and searching assets.
Nuke 11.2: improved Tab menu, plus further updates to file localisation
The changes in Nuke, the base edition of the compositor, are largely workflow improvements, and can be seen from 07:00 in the video above.
The Tab menu, used for adding nodes to a project, gets support for substring matching, making it possible to search for a node by typing in a few non-consecutive letters from its name.
The nodes used most frequently by an artist should also now appear higher in search results.
It should also now be easier to expose controls for Gimzos and the new Live Groups thanks to a new Edit mode that enables users to drag and drop parameters from elsewhere in the interface.
It's easier to see the workflow in action than to read about it, which you can do from 10:15 in the video.
The file localisation system, overhauled in Nuke 11.1, gets a further update this time round, with new callbacks to enable TDs to customise the way Nuke displays the localisation status of assets.
Other changes include updates to the deep compositing API, designed to improve memory management, and to the SDKs for RED and ARRI cameras.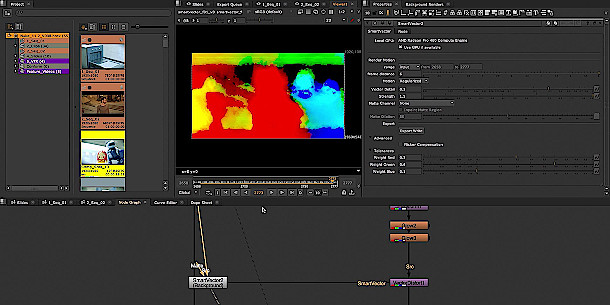 NukeX 11.2: GPU support and new mask input for Smart Vectors
NukeX, the extended edition of the compositor, also gets updates to the Smart Vector toolset, which enables uses to paint one frame of a shot, then have the changes propagate automatically to other frames.
The calculation of motion vectors required can now be performed on the GPU, making it possible to preview the results in real time, without the need to prerender, as shown at 14:30 in the video.
There is also a new mask input, which makes it easier to use Smart Vectors in situations where the relevant part of the frame is occluded by a moving object in other frames.
Nuke Studio 11.2: new options for colour coding and searching for assets
Nuke Studio 11.2, Foundry's compositing, editorial and finishing software, gets new workflow features intended to make it easier to organise assets when working on large projects.
The changes, which can be seen at 02:30 in the video, include the option to colour-code assets in the project panel, sequence panel and node graph.
Colour coding can be automatic, based on file format or versioning; or done manually – for example, to flag up assets that need re-rendering.
Assets in the project bin can now be sorted manually or alphabetically; and asset search has been improved, with the option to use multiple search tokens, and to search metadata.
Pricing and availability
Nuke 11.2, NukeX 11.2 and Nuke Studio 11.2 are about to go into open beta. Foundry hasn't announced a timescale for the final releases.
The current stable versions of the software, Nuke 11.1, NukeX 11.1 and Nuke Studio 11.1, are available for 64-bit Windows 7 and 10, CentOS 6+ Linux, and macOS 10.12+.
Prices have risen since the Nuke 11.1 product family was originally released, with new node-locked and floating licences now costing £3,398 for Nuke, £6,498 for NukeX and £7,598 for Nuke Studio.
Visit the Nuke family product website
Tags: ARRI, color coding, compositing, deep compositing, Editorial, finishing, Foundry, GPU-accelerated, GPU-enabled, Live Groups, mask input, motion vector, new features, nuke, Nuke 11.2, Nuke Studio, Nuke Studio 11.2, NukeX, NukeX 11.2, price, RED, release date, Smart Vector, Tab menu