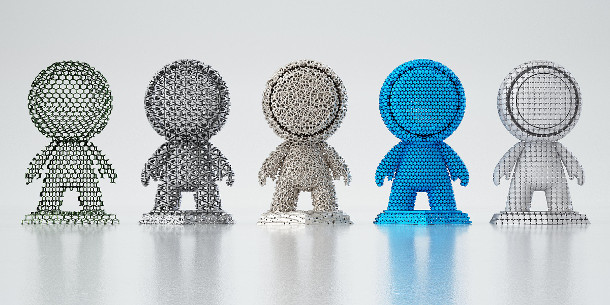 Allegorithmic has an interesting update to Substance Source, its online library of PBR materials. The 50 new Substances replicate materials used in 3D printing, helping users to previsualise 3D prints.
"Product previews for 3D printing have been almost nonexistent until now," said Allegorithmic product manager Nicolas Paulhac. "We wanted to offer designers the ability to experiment with a new sense of tactility through photorealistic renderings, so they can almost feel the object in their hands before they print."
Replicate the materials and weave structures used in real-world 3D printing
The new materials replicate those used in 10 real-world 3D printing technologies, including SLS and FDM printing. As well as plastic, metallic and wood finishes, they replicate the weave structures of printed meshes.
As with other materials on Substance Source, the files are available in .sbs and .sbsar format for use in Substance Designer, Substance Painter, and compatible DCC software.
At the time of posting, one – a Voronoi metal mesh – is available to download from the Freebies section of the website, which also includes 11 other free downloadable PBR materials.

Read more about the new 3D printed materials on Allegorithmic's blog
Download 12 free materials in Substance format from Substance Source
Tags: 3D print, 3D printing, additive manufacturing, Allegorithmic, download, FDM, free, Fused Deposition Modeling, material, PBR, preview, previs, SBS, SBSAR, Selective Laser Sintering, SLS, Substance, Substance Source