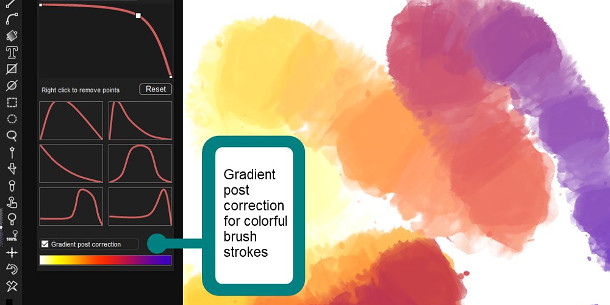 The Project Dogwaffle team has released Howler 11.2, the latest update to its VFX-friendly paint tool – or, as developer Dan Ritchie describes it, its '(un) natural paint program'.
The update adds automatic smoothing for hand-drawn brush strokes, adds a new option to shade brush strokes along a colour gradient, and adds a new Warp mode for the Free Transform tool.
New brush stabilisation and post-correction options
Ritchie describes the release as refocusing development on Howler's brush engine following several 3D-centric updates, including the addition of a new brush stabilisation tool.
There doesn't seem to be a longer description on the website, but it's described as automatically smoothing out hand-drawn strokes, presumably in a manner to the equivalent setting in the latest Photoshop update.
In addition, the existing post correction feature, which varies the width of a brush stroke according to a user-determined envelope curve, now also works with the Curve tool.
As well as changing the width of a stroke, it is also now possible to vary its colour along a gradient.

New image warping mode, improved OBJ export
Other features in Howler 11.2 include a new Warp mode for the Free Transform tool.
It enables users to distort image selections my manipulating their corners independently, in a similar way to Gimp's OBJ export now automatically generates a texture map and .mtl file as well as the geometry.
The update also adds a new HSL colour picker, in addition to the RGB-based picker added in Howler 11.

Updated 8 March 2018: Howler 11.2c is out. It's primarily a bugfix update, but also adds a new high-level instance-based 3D rendering class to the software's API.

Pricing and availability
Howler 11.2 is available for Windows 7+. The MSRP is $49.99, but at the time of posting, the software is available at a discount.
Read a full list of new features in Howler 11.2 on the product website
Tags: brush smoothing, color picker, Curve Tool, digital painting, Free Transform, Howler, Howler 11.2, Howler 11.2c, HSL, natural media, new features, OBJ, post correction, price, Project Dogwaffle, stroke smoothing, symmetry, warp