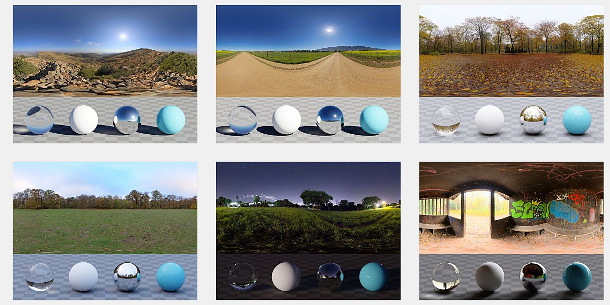 Originally posted on 3 October 2017. Scroll down for updates.
CG artist Greg Zaal has made all of the HDRIs on HDRI Haven, his popular resource site, available to download for free for use in commercial projects.
There are currently 31 free 8,000px HDRIs, and it looks as though the 16,000px versions will follow shortly.
High-quality, high-resolution HDRIs for the CG community
We first covered HDRI Haven when it launched last year: as well as offering a limited number of free HDRIs, the site was noteworthy because of the quality and presentation of its commercial resources.
Then, earlier this year, Zaal began to release a free 16,000px HDRI a week – and now he has put all of the content currently on the site in the public domain, via a Creative Commons CC0 licence.
A brave experiment in crowdfunded content
In a blog post explaining the decision, Zaal says that his dream was always to release everything for free, but that he initially opted to sell hi-res versions of the HDRIs commercially to cover server costs.
It worked well, but Zaal felt that the work became more about making money than making resources available to the community: that he was "slowly becoming the soulless businessman I've always hated".
That led first to the weekly free HDRIs, and then to his current plan: to make all of the content available for free, and to ask for donations on Patreon to support future work.
If he reaches $500/month to cover the increased bandwidth costs, Zaal says that he will also make the full 16,000px versions of the HDRIs available to download for free.
At the time of writing, he's up to $300/month in just two days.
The full blog post is a thought-provoking, and really rather inspirational, read. Check it out, and if you use the HDRIs you download, do consider backing Zaal on Patreon.

Updated 6 October 2017: Greg Zaal has now passed the $500/month funding target, and has made the 16,000px versions of the HDRIs on the site available to download for free.
Updated 4 December 2017: There are now over 100 free 16,000px HDRIs on the site, and Zaal has reached his Patreon funding target to continue releasing two more each week.

Read Greg Zaal's blog post explaining his decision to make his HDRIs available free
Download free 16,000px HDRIs from HDRI Haven
Support Greg Zaal's work on Patreon
Tags: 16K, 8K, download, exterior, free, Greg Zaal, HDR, HDRI, HDRI Haven, high-resolution, interior, landscape, night, skies