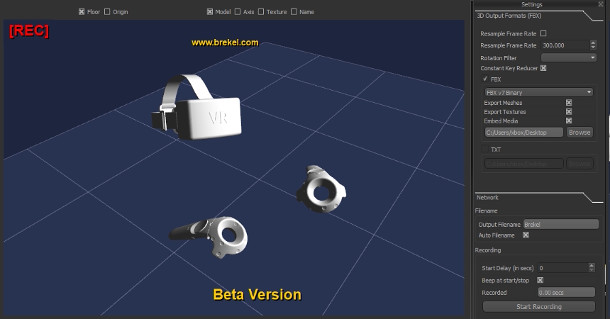 Brekel – aka TD and tools developer Jasper Brekelmans – has released a free public beta of OpenVR Recorder, a new tool for recording tracking data from virtual reality hardware in real time.
Capture motion data from your VR headset and controllers in FBX format
OpenVR Recorder captures the motion of any VR device with OpenVR drivers, including the HTC Vive, and the Oculus Rift and Oculus Touch controllers, recording either as text files or in FBX format.
The system works in real time, with no offline processing required, and can sync recording to other Brekel apps, like markerless facial tracking tool Brekel Pro Face and full-body tracking tool Brekel Pro Body.
As well as capturing information valuable to VR developers, Brekelmans notes that the accuracy and high frame rates of VR hardware make it possible to record usable mocap data for more general 3D projects.
Pricing and availability
OpenVR Recorder is currently available as a free public beta. Jasper Brekelmans hasn't posted a commercial release date yet, but says that the final pricing will be "in range" with his other products.
Read more about OpenVR Recorder on Brekel's website
(Includes sign-up form for the open beta)
Tags: beta, Brekel, Brekel OpenVR Recorder, Brekel Pro Face, Brekel Pro Hands, FBX, Featured Articles, free, HTC Vive, Jasper Brekelmans, motion capture, Oculus Rift, Oculus Touch, OpenVR, OpenVR Recorder, real time, SteamVR, tracking