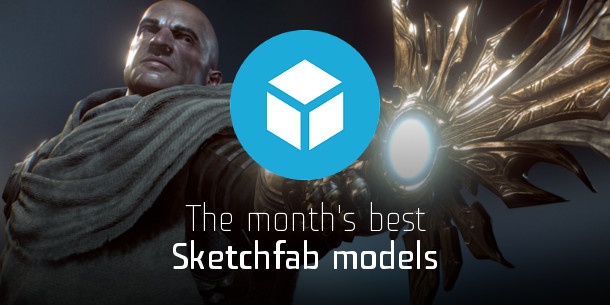 Sketchfab provides a simple way for anyone to publish and share their 3D models online. To celebrate the best in real-time 3D art, we asked the Sketchfab team to pick the 10 greatest models on the site this month.
To interact with a model in 3D, click the large Play icon in the centre of the frame.
To find out more about a model, click the small Sketchfab logo on the bottom left of the frame.
Tyrael Fan Art by Dulce Isis Segarra
67.2k faces
Fan art of Tyrael from the Diablo games, based on actor Dominic Purcell.
Room by Majaz Studio
29.0k faces
A low-poly environment based on concept art by Greeimm Bae.
Seiji by Emilio J. Dominguez Calvo
8.1k faces
Folding Camera Kodak by Dominika Bariakova
14.3k faces
See more renders in Dominika's ArtStation gallery.
HKN Cannon (animated) by Fabian Joost
117.9k faces, animated
Spacewalk by Dmitry Grebenkov
30.0k faces
Based on concept art by Alexey Zaryuta. See the sculpt on Dmitry's ArtStation gallery.
# 6 – To lead Us – by Hadrien Farre
53.9k faces
Fan art of the movie 9, directed by Shane Acker.
ZdinoX by Milen Parvanov
21.9k faces
See more renders in Milen's ArtStation gallery.
Biomechanical Whale Animated by Igor Puškarić
24.8k faces, animated
See exploded views on Igor's ArtStation gallery.
Little Robot by CG Art.vn
80.0k faces, animated
Based on Little Bot by Jake Parker. See more renders on CGart.vn's ArtStation gallery.

Want to vote for a model of the month? Just Like your favourites on the Sketchfab site, or upload your own!
Tags: best 3D models, best real-time models, January 2016, models of the month, real time, Sketchfab