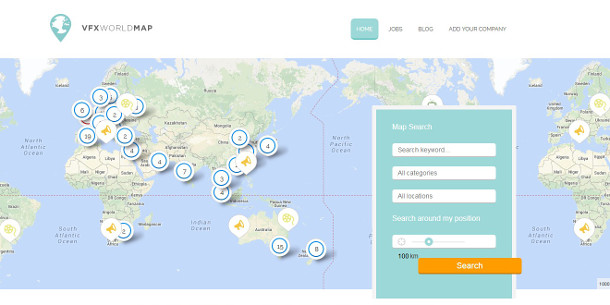 Need a quick way to find CG companies near you? New site VFX World Map may be just what you're looking for.
A searchable online directory of visual effects and animation studios, the site does exactly what the name suggests: it brings back listings within a set distance of a search location, and displays them on a map.
You can filter results by market sector (feature films, commercials, cinematics, episodic TV, and so on), and there's also the option to use the name of a software package as a keyword when searching for jobs.
Coverage is pretty good for large cities and studios, but thinner elsewhere: a quick search for Scandinavian VFX houses returns Ghost and Storm Studios, but not Toxic or Gimmick Visual Effects, for example.
Still, the site has only been going less than a month, and it's already a useful resource. And with the demise of CG Studio Map, there's a gap in the market here. Add a listing for your own studio, and it will get even better.
Updated 5 September: VFX World Map seems to have been a victim of its own success – the site is currently unavailable. However, VFX Serbia have been in touch to say that they're creating their own world map.
It's still a work in progress, but it's based on the Google Maps Engine, so if you type in the name of a studio that isn't currently on the list, Google will show you where it is in relation to the existing listings.
Tags: animation, faciity, fine, job, local, map, online, search, studio, vfx, VFX World Map, visual effects