District 9
Script:

EXT. MORNING. – JOHANNESBURG, DISTRICT 9

A sequence of SHAKY panning cuts are driving down the streets of a low wage, third world like neighborhood on the outskirt of JOHANNESBERG. Piles of garbage have been converted and organized into what appears to be SHELTERS. 20 FEET TALL, reinforces BARBWIRE fences have been installed around the perimeter to suggest nothing should be coming in, or out of this MILITARY controlled perimeter. The streets feel abandoned, although, the feeling of a presence is in the air.

INT. DAY. PICKUP TRUCK
The Gorilla PICKUP TRUCK suddenly comes to a halt.

Here we are-
Where's my vest?
You won't need a vest sir. Just stay put.
No where's my F*CKING vest mate?!
Just stay close. You'll be all right.

EXT. DAY. ARIAL VIEW

The camera CUTs to a HELICOPTER view of this vast wasteland of a neighborhood. A sniper adjusts his scope registering the distance of the Gorilla PICKUP TRUCK.

INT. DAY. PICKUP TRUCK

A radio voice breaks the tension in the car.

Ground Unit 1 this is Alpha Bravo. You guys are clear.

Copy Alpha Bravo.
OK Let's roll-

Shit mate-

EXT. DAY. DISTRICT 9

The camera slowly PANs up to the sky to reveal this GIANT industrial flying SAUCER.

CGC Matte Painting guidelines | DISTRICT 9
1) The matte painting is an establishing shot of the giant flying saucer hovering over the ghetto of D9.
2) The aspect ratio of your final image should be: 65mm Camera Aperture
3) The final resolution output of your piece should be: 1920 x ####
4) The piece should incorporate at least one photograph, the plate*.
5) The piece should incorporate at least one 3D element.
6) You cannot directly use the references provided directly in your shot.
First Place

VVFX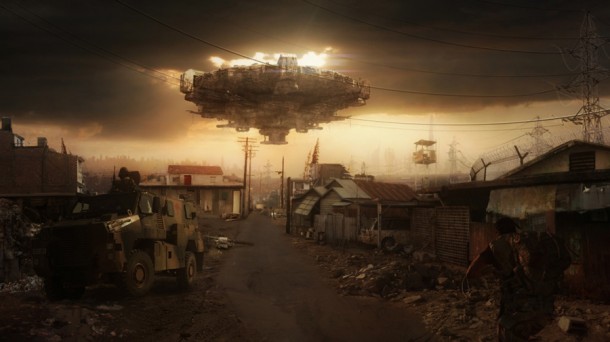 Second Place

3DPragmatic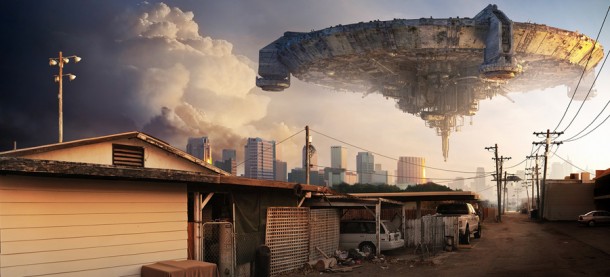 Third Place

ZDood