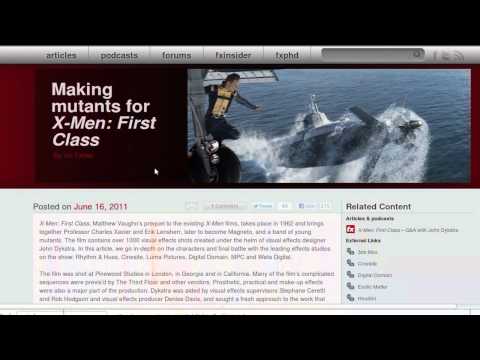 The trailer for cmiVFX's Simulating Liquids Volume 1. The company has just made its Naiad video training courses available for free now that Naiad has been acquired by Autodesk.
cmiVFX has made its Naiad video training available for free, following Autodesk's acquisition of the software from its original developer, Exotic Matter, last week.
Autodesk will be discontinuing Naiad as a standalone product, although "certain Naiad technology may find its way into future Autodesk offerings".

A solid grounding in liquid simulation
The cmiVFX training, Simulating Liquids Volume 1 and 2, comprises almost nine hours of video training, recorded by VFX artist Diego Trazzi, and covers the fundamentals of fluid simulation before moving on to recreate a fountain, a flooded city and the wake of a boat.
Even if you've never used Naiad, it's useful material for any aspiring TD – and one that will stand you in good stead if the tools reappear in Autodesk products.
You will need to track down the software itself, though: the old download link for Naiad demo has been removed from the Exotic Matter site.
Get Simulating Liquids Volume 1 from the cmiVFX website
Get Simulating Liquids Volume 2 from the cmiVFX website
Tags: autodesk, cmiVFX, Diego Trazzi, Exotic Matter, fluid simulation, free, Naiad, Simulating Liquids, TD, tutorial, video training, Volume 1, Volume 2