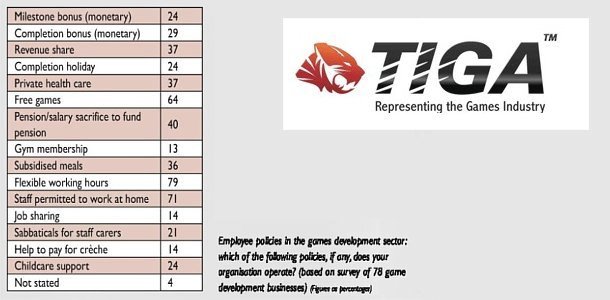 More games artists get flexi-time than free games as a perk from their employers, according to a new guide to careers in the industry.
For 'Your Guide to Career Paths in Game Development', UK trade body TIGA surveyed 78 developers about which job perks they offer employees.
Flexible working hours and the option to work from home came top of the list, being offered by 79% and 71% of studios respectively. In comparison, just 64% of developers offered their employees free games.
Surprisingly few studios offer their staff financial incentives or time in lieu for crunch periods, with milestone bonuses, completion bonuses and completion holidays all offered by less than 30% of companies.
Perhaps unsurprisingly for a male-dominated industry, perks related to childcare come lowest on the list, with just 14% of studios permitting employees to job share, or subsidising creche fees.
The guide, which is available to read free online, also rounds up industry salaries (£32,388 is the national average for artists, in case you're wondering – around $52,000) and provides overviews of typical career paths within the field, including artist, animator and programmer.
Worth checking out if you're interested in a career in games, although non-Brits should note that the final section on courses is very UK-centric.
Read the TIGA careers guide online
Tags: careers, Games industry, perks, salaries, survey, TIGA