The Foundry has been named one of the UK's fastest-growing technology companies in a leading national survey. The developer was placed 34th in the 2010 Sunday Times Microsoft Tech Track 100.
According to the listing, The Foundry's profits increased by over 60% in the past year, having risen from £1.6 million (around $2.53 million) in 2006-7 to over £6.8 million ($10.7 million) last year.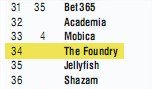 The ranking is indicative of how successful the Nuke developer has become in dominating the post-Shake compositing market.
Following its acquisition of Nuke from Digital Domain in 2007, The Foundry has expanded its product line with Weta-developed texturing package Mari and stereoscopic post-production toolset Ocula.
"The company is now on target to double last year's turnover, which is no mean feat in the current financial climate," said CEO Bill Collis.
Other businesses featured in the list, which ranks only independently owned companies, include online DVD rental service Lovefilm and online payment system Moneybookers.
Monumental Games, developer of the 3D browser-based MMO engine Prime, features on the list in sixth place.
In separate news, The Foundry was also selected for inclusion in The Guardian Tech media invest 100.
Click here to visit The Foundry online
Tags: Mari, nuke, The Foundry, top 100