-Originally published January 13th, 2009-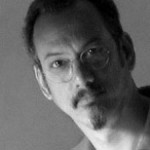 At CG Channel it has always been our goal to provide our readers with the best the art world has to offer. It is our privilege to introduce you to Wayne Barlowe, connoisseur and explorer of the underworld. We were able to meet up with Wayne Barlowe at Gnomon the Gnomon Live event last summer.
Wayne Barlowe is famous in the art world, not just for his work on various movies as a concept artist, but also for his work within the world of fine art.  He has created a wide variety of imagery for magazines, books, films, and games. With an intense focus on creature design and narrative art, his books and art have influenced many artists throughout the CG industry.
Wayne Barlowe's parents were both freelance natural history illustrators.  His sole focus while growing up was natural history illustration.  From this interest he gained a knowledge of biology and anatomical structures.  This knowledge of the natural structure of creatures provided him with an excellent base for creating fantasy creatures that seem believable. He initially pursued his art studies in traditional materials. While further pursuing art through his studies at Cooper Union, he found a resistance within the fine art world to narrative and Science Fiction work that he could not understand.
But fortunately his work found a place in the publishing world. His work appeared in various magazines and books.  Before long he produced his own book. "Barlowe's Guide to Extraterrestrials", a book that he had conceived, illustrated, and co-authored, which was published in 1979. The second book he published, "Expedition", included over 40 paintings and 100 black and white illustrations. Since then he has followed up with Barlowe's Inferno, Brushfire, The Alien Life Of Wayne Barlowe and An Alphabet Of Dinosaurs.
Barlowe has since contributed concept and creature design work on movies such as, Titan AE, Galaxy Quest, Blade 2, Hellboy, Harry Potter 3 and 4, Hellboy II, The Day the Earth Stood Still, Priest, Paradise Lost, and Avatar.  His first novel, God's Demon, was released by Tor Books in October of 2007.
Special Thanks to Wayne Barlowe and his wife Shawna McCarthy.
Links
Books for sale on Amazon.com