-Originally Published April 13th, 2009-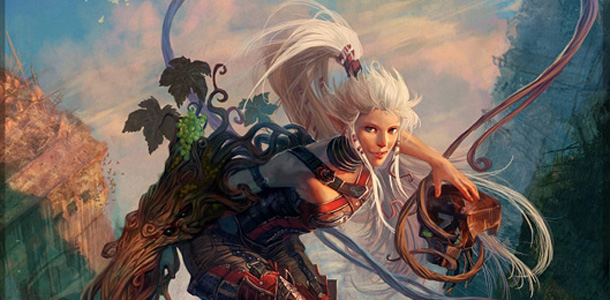 What are some of your influences?
Its actually very complicated. Starting from the japanese manga to classic paintings and modern art. I take a little from everything, and there are some of my friends and artists such as Brom, Olivier Ledroit, Adrian Smith, Kentaro Miura, and many others which have a great influence on me.
Where do you find inspiration for your artwork?
I just love to walk and look around – some great inspiration can be found in the environment that surrounds you. It depends on th weather though

It's also usefull to see a movie or look at some other artists work – it usually helps me to feel inspired before working. Music is a big help to.
What process do you follow when creating you images?
I start in digital media because it's faster for me. I make all of my images and sketches in photoshop and apply color in the same way. But if i want the picture to have a traditional look I will often use a pencil sketches and then color it digitally. I never tried using markers but i think that i will someday

What is the most difficult part of the process?
Im assuming that the most difficult part is developing an interesting idea and making it clear and beautiful to an audience. All further parts of the process is more an issue of using of artist skills. And there are many talented skillfull people out there.
How do you know when you are finished?
It's just a feeling i suppose. When you look on the piece and there is nothing that disturbs your vision and all details seem in place where they should be.
How long does it normally take you finish a piece like 'Dionesis'?
About four or five work days if the process goes smoothly.
When did you decide that you wanted to become an artist?
I drew from my early childhood so i think that my decision to pursue art as a profession was more of a natural move than cold logic. But if it's about a job choice – I chose to work in game development about three years ago.
Your work uses a wide variety of color. How do you decide the color scheme that you use for each piece?
I start from thinking about the feelings and athmosthere i want to show. Color is the best instrument to create the mood.
Can you tell us as little bit about your background and history?
I was born in Moscow, Russian federation. My mother is a journalist and my father is a professional drummer. As far as my interests, I think that first real focus was in Greek mythology. In my early childhood I was very impressed by it's tales and heroes. At the age of 6, I was drawing many scenes and favorite moments from mythological stories. Then I saw Disney's Little mermaid and it ate my brain out

.
Then it was my first dream to become an animator. I then took some courses at the profile school section. After I finished school, I entered the Moscow Academic Art College (formerly the MGAHU of 1905) and studied there for four years in the graphics faculty. After I graduated, I worked like an freelancer for half of a year for the Nival Online company on the Allods project. Then I came on the staff fulltime and started working as a concept artist up to now.
Can you tell us about the comic book 'Nettlebite' you are working on?
It will be graphic novel set in a fantasy world where will be no pure good or evil but people and creatures which live their lives by the world's lore. I have a bunch of main heroes and their adversaries whom i depict on my different paintings. The story will be mainly of friendship, love and war in a prism of contemporary vision.
Are you working on other projects now?
Sadly my work leaves me very limited amounts of time I can spend on my own projects. So I want to at least finish the current one.