-originally published November 7th, 2008-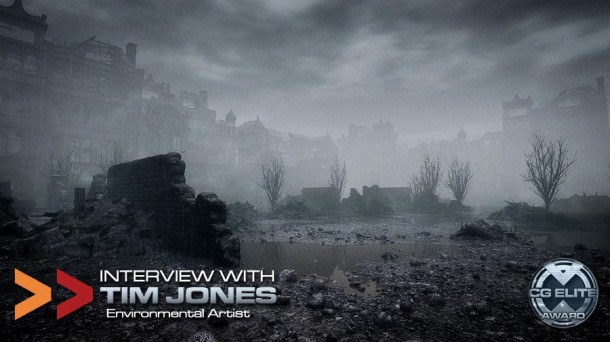 How did you first get started in creating CG imagery?
It all started in college. I went to school for Architecture. At the beginning of my sophomore year a friend of mine showed me some 3d renderings of a building he had made at his work using Truespace 2. I was blown away by the ability to create a 3d model of a building and rotate around it, change its lighting and map textures on it. At this time I was getting pretty comfortable with AutoCad and so I wanted to take the next step and create 3d models of my designs for school. My Dad knew AutoCad and used it at his job, so he showed me how to use the 3d commands in it. I was instantly hooked and started looking around the internet for more information and came across all kinds of amazing renders that inspired me to push further with CG.
In my searches I came across 3dsmax and the amazing work that Blur Studio was doing with it and decided to get it. Towards the end of my Sophomore year it became clear to me that I was having way more fun doing the illustrations of my designs and didn't care at all about what needed to go inside a wall section or how big the air conditioning ducts needed to be in order to distribute an even flow of air throughout a building. I remember the day that it truly sank in that architecture wasn't in my future. I was sitting in class wishing I could leave and go to the computer lab to play with 3dsmax. It was a difficult time for me because I had already put in two years towards a degree I didn't really care about anymore. I wasn't sure if I should quit and find a new school or continue and just finish the degree.
In the end I decided to finish what I started, but more than that I also decided to go for a dual degree in Illustration so that I could get a solid background in traditional art. After that decision was made Blur was the studio at the top of my list to someday go work for. When I graduated I only had experience doing architectural renders and the quality of my work wasn't good enough yet to get into Blur. So I took a job doing architectural renders in San Juan Capistrano. I felt that this would at least get me near the studios I wanted to work for someday. I would work on personal artwork nearly every night after work trying to build up my skills and create a worthy demo reel. After a year I had a reel and sent it to Blur as well as a few other studios. I got interviews at the other studios and even got an offer at one that I accepted. The night before I mailed my signed contract to them I got an email from Tim Miller asking if I was still interested in coming to Blur. Needless to say I accepted Tim's offer instead.
Who are some of your artistic influences?
I'm a big fan of the architecture of ancient Italy and Greece. I also really like Romanesque style architecture, Caspar David Friedrich, Canaletto, Edwin Deakin, Claude Joseph Vernet, Hudson River School artists, Joseph Gandy, Alan lee
How did you learn scripting for 3d software?
It came out of necessity. I was modeling a jungle environment and created a bunch of renderable splines which I'd put all over the scene to act as vines. It wasn't until I'd copied a couple hundred of these around that I realized I had made them all the same thickness which wasn't looking good. Even though I had never done any scripting I knew that it couldn't be too hard to figure out how to assign a random value to one parameter. So figuring that it would take less time to learn how to write a quick script than to select and manually change all those objects I dove into scripting. After 30 minutes or so I had it working and realized that it would be pretty easy to automate a lot of tasks I often did by just replacing a line or two of the code I already had. Then it really took off. The more I did it the easier it became and I started writing all kinds of tools to help speed up my workflow. When I saw how much faster I could work by automating and streamlining things scripting just became part of my workflow. Today I view scripting the same as I view any other tool. If it would take me less time to write a script to do it than to manually do it then I write the script. It will save me a little time now, and a lot of time the next time I have to do it. I owe a lot to the real scripting masters at Blur who helped me to learn scripting. Thank you Eric, Diego and Remi!
While you were learning how to create 3d environments did you focus on the concept? or did you set out to create as realistic materials and environments as the 1st priority?
When I was first learning I would usually find inspiration in movies, photos and books. I would come up with an idea for an image I would like to create and go over it in my head picking out what areas I had no idea how I was going to pull off. Those were the things I would start with. It was always a big R&D effort up front to see if I could even create the elements my final image would need. Once I figured out how to do it and get the results I was after I would just jump right into it and build the scene. The first few years of learning CG were almost entirely spent doing tutorials I found online and just pressing buttons to see what they did. My goal was always to create the most realistic environments I could.
In your current work environment you mention using 3DS max, lightwave, and learning maya. Do you have a preferred 3d software?
My favorite software is the one that does the job I need it to do the best. So my favorite software is forever changing with each project and sometimes even for certain tasks.
You mentioned that your change from Blur to Digital Domain was because of your desire to work on more photo-real rendering. Have you always wanted to accomplish more photo-real results? Or is this more of an urge to work on something that is different from the content produced at Blur?
A little of all of the above. I loved working at Blur. It was a fantastic atmosphere to work in with amazingly talented artists. I pushed to create the most realistic shots I could when the projects I worked on called for it. When it came down to it though, there are not too many game cinematics where the goal is photorealism. Often there isn't a budget for that either. My decision to leave was a hard one. The friends I made at Blur had been like family to me for 5 years. When the opportunity to work at Digital Domain came up I decided it was something I should do. Working there would allow me to work with a new batch of extremely talented people and get to work on projects where the goal was to make photo real shots.
In your blog you frequently mention production challenges and how you overcame the problems that occur. A lot of problems within a pipeline seem to be related to limitation within certain software. Do you ever have any direct contact with the developers of software?
There are definitely issues we would come across within the software packages and most of the time we were able to contact the developers and get it resolved. It depends what the problem is of course. If it could not be solved we would just find another way to get the result we wanted. The most common issue that I almost always faced on every project was RAM usage. Big environments rendering in HD often require a lot of RAM and it was always a battle to wrangle the RAM usage down to something that would render in 32-bit.
I really enjoyed your explanation of the work you did on Hawx in your blog entry. Can you explain to our readers how and when to use .map or .exr as opposed to typical texture files for texturing environments?
Hawx was the first time I'd used tiled exr's in a project. In fact in the end I ended up not using them and just went back into my shots and found some corners to cut to make my jpg textures work. Tiled .map and .exr's are pretty interesting though. They come in handy when you have lots of extremely large texture maps and not enough RAM to render them. They basically break the texture map into smaller pieces within that same file. At render time only the portions of the texture map that are necessary to render a bucket are loaded into memory and then flushed when the bucket finishes. You end up with a very low memory usage and you get to render your highres texture map. The downside is those maps become pretty huge once you save them out "tiled." You trade RAM usage for hard drive space.
Having worked in supervising, compositing, modeling, texturing, and lighting, it would seem that you understand all of the roles that go into making a cinematic. Have you ever considered making your own CG cinematic?
I feel that I understand the roles necessary to create cinematics, but that doesn't make me capable of creating a full cinematic all by my lonesome. At least not to the level I would want it to be. The reason studios like Blur create such amazing work is because they have teams of very talented people doing what they do best. I've never really wanted to create cinematics on my own. I loved doing them all day at work, but in my free time I like to get away from the computer

. Sometimes I have ideas for environments that I really want to create and I'll spend some time working on still images. It's good to maintain a balance though.
Digital Domain is famous for the work they have done in movies and commercials whereas Blur carries a lot of popularity from their cinematics and short animated films. Is there a difference between the focus and amount of work that goes into creating a commercial as opposed to a cinematic?
To be honest I haven't been at Digital Domain long enough to feel completely confident with my answer. Based on the two projects I've been on so far at DD I would say that there is definitely a difference in the expectation level between the two studios and a different mindset about what is important and what isn't as much. I think that those differences are totally realistic and appropriate for the different types of work each studio does. When the end goal is different then the level of effort in certain areas and the expectations between the two are understandably different. There is much more focus at DD to achieve a photo realistic end product which is to be expected. So the amount of time spent in all areas of production to reach that goal is longer in general than at Blur. On the flipside of that Blur puts out top quality cinematics at incredible speed. Blur's pipeline is an extremely well oiled machine.
What is a typical work day for you?
I come into work around 9am and get a cup of tea. Then I go through any new emails I received overnight and check the frames I kicked off the day before. I am a generalist so depending on how far along we are in production I will either continue with modeling and texturing of an environment, character or prop, or I will be setting up the shot lighting, preparing render passes and putting together composites. Once in a while I'll be asked to write scripts for the pipeline and I'll spend my day writing new tools. Once we start rendering passes and compositing we go to dailies to review them in the afternoons. Most of the time I head home around 7pm, but again that depends on how soon the delivery is and how much still has to get finished before then.
What process do you follow when you create an environment? Do you start with a sketch and then move onto modeling the basic elements in the scene?
It all starts from the initial idea. Sometimes that is concept art that is provided for me and in the case of personal artwork it all begins with the initial idea. The concept art I would get would have varying levels of detail depending on how much time the concept artist had available to work on it and who the concept artist was. For personal artwork I often figure out most of the details in my head before I start. When I'm not sure about something then I'll sketch out a series of different ideas to solve the problems. I don't generally spend a lot of time sketching though. It's all very rough and mostly me just playing with composition and the major elements within the scene.
Any advice for artists wishing to pursue a career as an environmental artist?
Really pay attention to the world around you. When you think you've done that stop and do it again and try twice as hard to notice the details. Successful environments are the ones that get the broad strokes right as well as the main focal points. Scale is extremely important. Its important from a subconscious level as well as from a technical lighting point of view. We are very aware of the world around us and even though we may not know exactly how big many common things are (like windows, doors, cars, trees, etc.) we still subconsciously know when something doesn't look right to us…Its those things that make you not sure why your renders don't look real, but something feels off. Lighting in all 3d packages I've used works best with realistic scales.
The big thing that I notice is when people don't get the horizon lined up correctly. They composite a background photo or matte painting behind their CG and sometimes totally miss where the horizon should be which creates images that too me feel like the world is falling over. Its great that 3d packages do most of the perspective work for us, but when your dealing with many layers of environment that get rendered separately you really need to pay attention to making sure all the layers line up realistically. Environments your dealing with often contain many different types of textures, and depending on your archive of texture maps you have to mix and match a lot of different sized textures. It is very important to get the scale and resolution of your texture maps looking consistent. You don't want two foreground objects, one mapped with an extremely high res texture and another with a very low res one next to it. If you don't have texture maps that work well, then consider going outside and taking photo textures yourself.
Be very critical of your work and get feedback from friends and coworkers or on online communities. One of the best things you can do after working on a scene for a long time is to get away from it. Take breaks and come back to it with a fresh eye. I can't even begin to count the number of times I would leave for the night feeling happy with what I had accomplished that day and come back in the morning and immediately spot everything wrong with what I had done the day before.
Thanks to Tim Jones for taking the time to answer our questions.
---
For more of Tim Jones' work check out:
Check out Tim's DVDs