-originally published December 7th, 2008-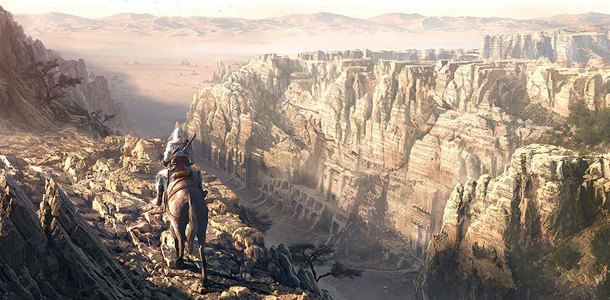 Could you please introduce yourself and tell us about some projects that you have worked on in the past, and what you are currently working on?
Hi There, I'm Raphael Lacoste, born in Paris in the mid 70ies in France. I spend most of my life in the south west of France before crossing the Ocean … During my time in Europe, I worked for a Theater company called "Pygmalions." That was a great Human experience, far form marketing and capitalistic expectations… But life was harder as photographer and set designer, so I jumped into CG as soon as the opportunity appeared.
When Ubisoft called me to join their studio in Montreal, I found the idea a bit crazy (I had only 3 weeks to leave everything behind) but thanks to my girlfriend (more reckless than me…) we finally left family, friends and dishwasher in Bordeaux, France, and moved to Canada.
After arriving in Montreal, I worked on Prince of Persia (PoP) The sands of Time as Art Director, PoP warrior Within and PoP two Thrones as AD on the High resolution Cutscenes, Then I Art Directed Assassin's Creed Production. I am currently working as concept artist and mattepainter for Films at RodeoFX, a small Visual Effects company based in Montreal. We worked on Golden compass, Indiana Jones and the Kindom of the Crystal Skulls, The day the Earth Stood Still, Mr Nobody, Repossession Mambo…
What motivated you to become a digital artist?
I think the opportunity to mix my interest in photography, modeling, painting and music… the ability to create a painting that could inspire a movie or a universe (in a game for instance). I have always been attracted by scenery, lighting, image composition, and the tools we have as digital artists now are so good to express what you have in mind.
What are your main sources of inspiration?
Only a very few digital artists but mainly 19th-17th century classical painters. I love the way they understood light and tried to reproduce, stylize reality in something that pushed the art to the next level in my opinion. In short Gerome, Vermeer, Friedrich are my favorites.
You have worked on Prince of Persia (which you have won a VES Award for). What do you think of the new artistic style of the new Prince of Persia?
From what I have seen, visually it looks really beautiful and I feel like we came back to the mood and poetry of the first one. Less Dark / gothic / violent than the second, I really prefer peacok blue to brown and reds

anyways, that it personal. It was a challenge for the core team to make their marks and renew the look of license, they managed to keep the mood of Sands of Time. In sense they were able to reinterpret Animations, palettes to make it feel more stylized and subtle and subtle at the same time..
Are you a gamer if so what is your favorite game right now?
I used to be a part-time gamer, but since I have kids, I just have the time to take photos and drink beers with friends, so I quit video games

I did love Nomad Soul, Oddworld: Abe's Oddysee, Jak and Daxter, and "Prince of Persia – Sands of time" though…
Do you have any preferences of working in the film industry or the video game one?
Maybe too early to say, I just worked in film for a year and a few months, but for now, I really prefer to have the time to concentrate on my art, also, as I am not art directing at this time, I have less obligations , so I can concentrate on the pictures I have to deliver!
What made you change from the video game industry to the film industry?
I found that I lost too much time putting out fires. The current generation of video games have too much inertia… Creating a game is long, and even if you have great ideas, the ideas are not fixed until you ship. Engine is organic, you need to develop tools to visualize your creation. Working in film, I see new projects every 3 month, when it was every 3 years in video games. I think you have the energy of creation only for a short time and it is really hard to keep your motivation until you ship your project, if the project is a long and big production.
I love to be able to compose an image in a frame, and film allows you that, not videogame with 360 views. I also feel more free in a small structure.
I have a lot of respect for the people I am working with, I think they also respect me a lot, which is really important.
You seem to have many roles (matte painting, concept artist, artistic director) what was your favorite role and on which project?
I loved the early stage of assassin's creed production, when I did illustrations for the game look, I loved to drawing and art directing Prince of Persia The two Thrones Cinematics. in a few years, I will see what I have to say of my current job.

Can you share any advice for aspiring lighting artists out there?
I think the best thing to do is practice photo in real life and look at academy award winning cinematographer's movies! Also paint and go to museums!
Are there any artists out there that you admire?
Artists still in this world? Paul Lasaine is amazing, Francois Schuiten, C. Mullins, My Friend Sparth, Dusso, Jaime Jones, and so many that I will really need more room

What would you like to do in the near future for your career goal?
I would like to do more Production design work for films, environments and moods, this is what I am good at!
Thank you for taking the time to answer all of our questions.
No problem, thanks for your interest!
Raphael Lacoste's website: www.raphael-lacoste.com