-originally published November 17th, 2008-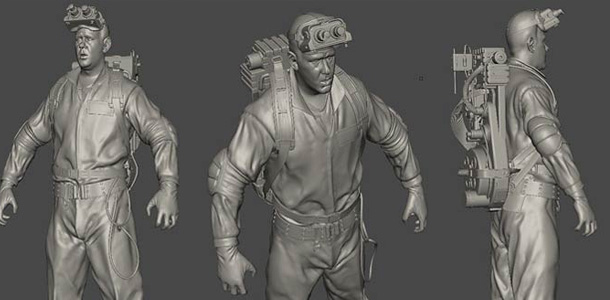 Within the first year of your career you became a senior-artist at Raven Software, when most people are looking to just break in the industry. What was the experience like?
Well, to clarify, I started at Raven Software a month after graduating, as a 3D artist on the sequel to Return to Castle Wolfenstein. I was promoted about 6 months later to senior artist. The success I experienced early in my career had a lot to do with timing: I think if I had graduated even a year earlier, I would have had a much harder time breaking into games, since my skill-set was primarily focused on cinematic resolution poly modeling, texturing, etc. Around the time I graduated, the games industry was making the jump into the next-gen arena, normal maps were becoming commonplace for character & environment-art. As a result there was a huge demand for people who were comfortable with the toolset (Zbrush especially), and could create hi-poly source models for normal mapping.
Breaking into the industry as a character artist on AAA-title with no professional games-industry experience was pretty daunting – there was a lot to learn – but the character-artists at Raven were very generous with their knowledge – guys like Shaun Absher (www.requestdenied.com) and Djordje Cakovan (www.cakovan.com) really saved my ass, I owe a lot to those guys. In an attempt to kind of play catch-up with the talent at Raven, I worked like crazy for the first 6 or 8 months, making personal art in my evening and weekend hours. I must have crammed like 2 years worth of working into that first 6 months. It was around that time that I started to get really comfortable with the toolset, and got over those technical hurdles that really plagued me when I first started. So I guess, the short answer is: hard-work and opportunity.
At 25, you have already produced character-art for more than twenty next-gen console & PC games working with many of the industry's top developers and publishers. How is all of this possible with only five years experience! What is the secret?
I think at last count I've made characters for about 23 or 25 games, something in that range, the majority of that within the last 2.5 years. I've been really fortunate. Making the jump into freelancing was a kind of natural next step for me: Since my first day at school, I had been really active in the online CG community, forging relationships with other artists. After a few months at Raven, I decided to start a little phpBB forum attached to my portfolio website. That community grew exponentially over the next few years, and eventually became a popular online hangout for some of the best character-artists in the industry. My online presence and reputation is really what allowed me to break into the freelance game and stay busy. I was fortunate not to have to look for clients, and never really experienced any of the famine associated with being a freelance artist – typically I was busy 24/7. There was much demand, I actually worked for about two years straight without a weekend off. So, again, short answer is: hard-work and opportunity.
Having started your own successful forum, beta-tested new software, managed a career in studio and out, in addition to working with Dark Horse and DC Comics on collectible lines for major movies like 'The Spirit' and 'The Dark Knight'. I guess asking you about personal art would be a waste considering the time you are involved with work. What about personal life… have you found a decent balance, friends, family?
Personal art has always been passion of mine, but it's definitely taken a back seat over the past couple years. I'm hoping now that I'm back to working a 9 – 5, I'll have time for it again. When I was freelancing, I was all work – all the time, it was pretty miserable sometimes. Thankfully that stress is now a thing of the past, and I have plenty of free time for my wife and friends.
How much change have you noticed in your techniques, or the software you use, in the 5 years you have been working professionally?
Funnily enough, on the content creation side, there's been very little change to my personal pipeline. I started off using Softimage XSI (v. 3), and I'm still using XSI (v.7) these days. The only big shakeup for me was making the shift from Zbrush to Mudbox. I was really fortunate to get invited into the Mudbox beta by a former Raven character-artist (Jeff Unay), I immediately fell in love with the toolset, and have been using it ever since. Dave Cardwell, Tibor Madjar, and Andrew Camenisch have done some amazing things with the latest release and I'm really excited about future development now that they have access to all the resources at Autodesk.
I'm also very excited by the growth of niche, specialized software we've seen over the last few years. Smaller companies and individuals are developing smaller, more focused software packages with a strong core feature-set, rather than one big bloated piece of software that tries to do everything. Programs like Topogun, Headus UV-Layout, Santiago Orgaz's Xnormal, Ryan Clark's Crazybump are invaluable to my pipeline.
After being very successful as a freelance artist, you recently joined Bioware as a principal artist. What drove this decision? Did the game have any influence in your decision?
My decision to join Bioware and quit freelancing was motivated by many factors. The freelance market has changed a lot over the last few years. When I started out there was much demand for individual character-artists who could produce a few assets a month for a studio, but in the last 6 – 8 months a lot of studios I was talking to set-up outsourcing deals with companies in China, India and Korea. Obviously I couldn't compete with their prices, and I found myself doing a lot more collectibles and print work, and less and less games.
Game development really is my passion, I'm a huge gamer geek. When I was freelancing, I really missed the team dynamic that comes with working in-house at a studio. Working closely with other artists is really inspiring and keeps me creative and motivated. When I wanted to return to studio work, Bioware seemed like the natural choice. They're one of the most respected studios in the industry, known for highly-polished, story-driven games that always receive awesome reviews.
Any interest in Film or are you a game artist for life?
Games are my passion for sure. I'm not looking to make the jump into film any time soon.
One could say that we are just hitting the tip of the iceberg for what next-gen games can show us. Any insight into what we can expect to see in the next few years?
Games visuals still have a long way to go, but I'd guess that this generation of consoles still has at least 3 – 4 years left. Have we reached the graphical peak for this generation? I doubt it. As God Of War 2 taught us, it's not till near the very end of a console's development lifecycle that developers learn how to squeeze every ounce of power out of it. I'm sure we'll see some titles in 2010-2011 that will be a significant step-up from the games we're seeing today. Then that next-generation of consoles (xbox 720, ps4, etc) will definitely allow for some huge visual upgrades: higher polycounts, bigger textures, advanced shading techniques, more sophisticated post-processing, it's going to be awesome.
Thoughts on 3D printing?
3D printing is a really exciting development for 3D modelers. Seeing as how everything digital-sculptors work on is virtual, we never get to experience the tactile satisfaction of holding one of our own sculpts. 3D printing has progressed a lot over the last 5 years. There's been some significant advancements that have brought the price of printers and materials down significantly.
A number of companies have sprung up in the last year, catering specifically to 3d artists, I personally have been using Protodemon (www.protodemon.com), a Vancouver-based studio for all my personal prints, they do exceptional work.
Thank you Kolby for taking the time to answer our questions. We wish you the best and look forward to seeing the work you contribute to the team at Bioware!
To see more of Kolby's work, check out his online portfolio: www.kolbyjukes.com