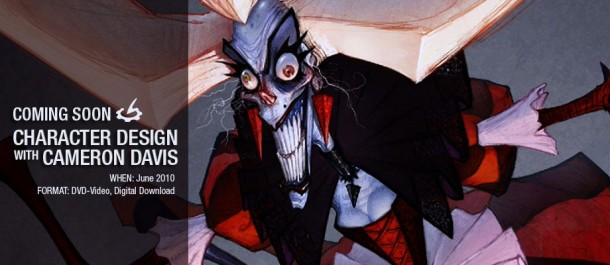 The Gnomon Workshop regularly interviews artists with upcoming tutorials. We've already had peak at this one and can honestly say you can expect a great dvd on character design from Cameron Davis. As for the interview, check out this little nugget of info:
Gnomon Workshop: On a game like Guitar Hero, where the characters are customizable, how do you approach designs? What are the most important elements?

CD: Guitar Hero 3, the first one I was involved with, wasn't customizable yet. That and GH5 had original characters. For World Tour I was mainly designing assets (clothing). I became more of a fashion designer on that one (laughs). But the most important elements for the original characters were nailing the overall feel and style of the genre of music the character was supposed to represent.
You can find the entire interview with Cameron Davis here:
http://www.thegnomonworkshop.com/news/2010/04/interview-with-cameron-davis/