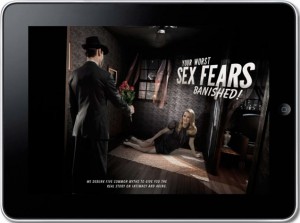 Now that the ipad is out you can expect to see alot more content providers pushing interactive content. While I'm sure there are others out there working on making interactive magazines VIV Magazine has taken the first cool new approach to editorial storytelling.  Using a combination of green screen work, 3D environments and  added visual effects they have transformed their content into a film noir adventure. Photographer Alexx Henry and award winning effects artists Cory Strassburger and designer Ming Hsiung create one of the first ever motion editorial spreads.
The creative director at VIV Magazine presented the team with the task of creating a living magazine cover for their "Green Issue" featuring Ed and Rochelle Begley. As the project unfolded the team was quick to pick up another opportunity from VIV to create "living art" for an editorial feature entitled "Your Worst Sex Fears: Banished!" included in the same March/April issue. From there the team created a dark underworld based on a 1940′s Film Noir style, where the reader experiences private moments depicting and setting the mood for each of the feature's topics. Cory notes "This is really the first time that we are able to use visual story telling combined with audio and music to create a rich experience for the reader as they journey thru an article. It's really quite exciting to start to combine these mediums!"

Each scene, exposing a misconception about sex, is a combination of live action green screen footage shot with the prototype RED ONE MX camera and a creatively stylized CG environment. Cory comments, "The original idea and budget was based on a still photo shoot composited within a stylized environment, then RED (Digital Cinema) called and offered to lend us a prototype RED ONE with their new MX sensor, at that point, we knew we were shooting motion which really ended up being the magic ingredient."

Taking advantage of the high frame rates and the amazing new sensor in the RED camera allowed the team to get creative, adding real edge to the animated piece. "One of the most interesting vignettes was the 'Hurt' set up. It was fun trying to figure out how to get the model to look like she was being thrown out a window in the green screen shoot and have gravity look correct along with her blowing hair. We added a bit of glass breaking in the end to sell the shot," said Ming. The end result is a look that has all the artistic flair of a fashion shoot with the thrill of a blockbuster movie.
Considering the current slump of the magazine industry it would be great to see this new technique in storytelling breath life into editorial.  The change might not only provide a boost in consumer interest, it could also provide more jobs to VFX artists outside of films and games.