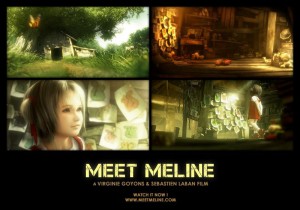 Not all cg has to be monsters, babes, and explosions. In fact some of the best animated shorts that linger in our consciousness are those that express a kind of warmth for the characters and a sense of exploration throughout the story.  Virginie Goyons and Sebastien Laban have created an animated adventure of wonder and beauty without a huge list of modelers, animators, and render artists. Even more surprisingly they have accomplished all of this without a budget!
Meet Meline is a story of a girl whose curiosity is aroused when she encounters a mysterious animal while playing within her grandparents barn. The making of video includes interviews, behind the scenes footage and the artwork from Meet Meline.
Meet Meline
The Making of Meet Meline
For more information on Meet Meline, or Virginie and Sebastien Laban, visit the official website!