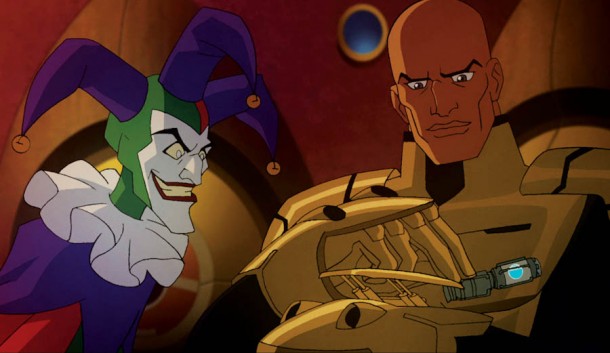 As long as I could remember I have always watched DC cartoons. From Batman:The Animated Series to the late episodes of Justice League: Unlimited, I have followed everything even as an adult.  That has always been the mark of quality in DC's animations, they are appropriate for children, being how they're cartoons, but at the same time always had serious story lines, jokes, and action sequences any adult could enjoy.  When DC started releasing their animated feature length films  this formula did not change and the result has been a successful line of movies  any comic book fan would love. Their latest release "Justice League: Crisis on two earths" is possibly one of the best they have produced so far.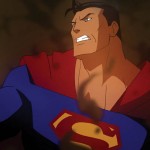 The film pits the justice league (made up by Batman, Superman, Green Lantern, Wonder Woman, The Flash, Martian Man hunter, and a few guest appearances  I won't spoil here) against a group called the Crime Syndicate from a parallel universe.  This is pretty much the evil version of the justice league, who have completely conquered their planet and divided up the territory among each other.  The world's Lex Luthor is actually a good guy as opposed to the real estate loving, power hungry, version we all know.  He travels to the Justice League's world and asks for their help to free his home from the grasp of the Crime Syndicate and naturally they agree, all except batman who feels their responsibilities lie with their own world.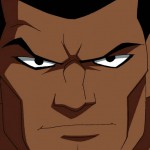 I was once told "Your hero can only be measured by their villian" and the villains here are true forces to be reckoned with. Each one resembles their justice league counterpart but with a dark and menacing twist. Though I feel  evil Martian Man Hunter didn't get enough screen time, this was probably due to his good counterpart having a love story with the president's daughter which did feel a little unnecessary. A lot of the Crime Syndicate members feel a little more original than others. Power Ring, the evil green lantern, is pretty much just evil green lantern, as opposed to Johnny Quick, the evil Flash, who has an amusing personality of his own along with an Australian accent.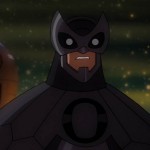 However one villain stands out among them all and that is Owlman, Batman's evil counterpart. Imagine if Bruce Wayne went completely over the edge. He would use his superior intellect, physical abilities, and endless wealth for personal gain with no regard to the well being of others. Yeah, he is about as awesome as he sounds. Ultimately he becomes the main villain of the plot once he discovers there are in fact an infinite amount of worlds and determines that if he destroys Earth Prime, the one world they are all connected to, he could destroy them all. This leads to a final confrontation between him and Batman with the fate of all known existence at stake. It is an epic conclusion with possibly one of my favorite quotes ever to be spoken by the Dark Knight "There is a difference between you and me. We both looked into the abyss, but when it looked back at us…you blinked". I noticed whenever Batman says a badass and rather pimp one liner, the rest of the movie is awesome. Coincidence? I think not.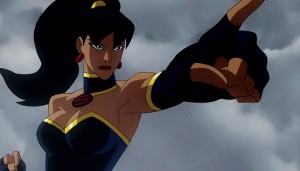 The animation is top notch and the fight sequences are well animated.  The only problem I had with this movie was some of the voice acting. Maybe I'm just biased, but I really wish Tim Daly and Kevin Conroy did the voices for Batman and Superman as opposed to Mark Harmon and William Baldwin. They do a decent enough job,  and I suppose some can argue that there is such a thing as over-using a voice actor. However I respectfully disagree, to me Kevin Conroy IS Batman just as Tim Daly is Superman. Everyone else  who has voiced the characters so far really fails to live up to the high bar these men have set with their definitive voices of the dark knight and the man of steel. It's like listening to someone else voice the Joker other than Mark Hamill, it leaves me wishing for more.It is also a shame they actually did use their voices in "Public Enemies" which ,unfortunately, was not a very enjoyable movie. However other than that the rest of the voice cast does a great job, especially James Woods as Owlman, he really steals the movie at times.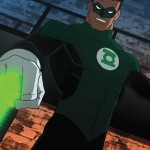 As far as extras this is a pretty packed dvd, the 2 disc special edition includes the animated short centered around another DC hero "The Spectre" as well as 2 episodes of the justice league unlimited, a look into the making of the film, and a digital copy of JL:COTE.
The story, animation, and very satisfying conclusion  makes Crisis on two earths one of my favorites. If I had to personally rank the animated films so far it would be like this:
1.)Batman Gotham Knight [Blu-ray]
2.)Wonder Woman 2009 (Two-Disc Special Edition)
3.)Justice League: Crisis on Two Earths [Blu-ray]
4.) Green Lantern: First Flight [Blu-ray]
5.)Justice League: The New Frontier Special Edition [Blu-ray]