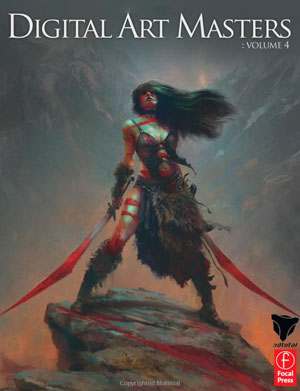 I don't even know where to begin. You may remember my last book review of Digital Painting Techniques and how so much information being packed into a 248 page book astounded me. Now we get 286 pages, 50 industry artists, 900 breathtaking images, and dozens of in depth tutorials. My mind is blown. These guys really do put all the effort they can to pack in as much artistic information into a $40 book. Digital art Masters: Volume 4 is worth every penny.
Unlike the digital painting book, this incorporates 2d and 3d design techniques. It's a pretty even mix so you don't get too much of one or the other. 3d and 2d artists alike have a lot of knowledge to gain from this release.  I personally do not make 3d art and I do not plan to. However even the 3d tutorials caught my attention and helped me understand a few things I did not before, plus the images they put together in the end are just amazing. The tutorials are easy to follow, so even someone who knows nothing of 3d (like me) can pick up these techniques with ease, though you cannot expect this to be a beginners guide to photoshop or 3ds Max. The artists provide their thought process in a very steady flow and don't slow it down to point out where certain buttons are or what short cut key to use.
As far as the 3d goes you get a very broad range of tutorials. Everything from lighting, modeling, texturing, and camera placement can be found here. The primary 3d program here is 3ds Max, though there is some Zbrush tutorials like in Alexey Kashpersky¹s 'On the recipe of the universe' or 'Manolia'  by Sebastian Haure, which is also one of the few tutorials to utilize Maya in this book. The 2d is just as deep as the other tutorials  and the creatures, characters, and landscapes that you are taken step by step through are phenomenal .  I wish I could list a few of my favorites, but that is just impossible being how there isn¹t a single image that I don¹t absolutely love.  There is a consistency of quality with the art work and it never skips a beat when you go from one tutorial to the next.
Whether you are a working professional or a beginner, each tutorial will offer a fresh approach to developing a high quality piece of artwork. I gained a lot of knowledge from the digital painting sections on lighting a painting, perspective, contrast, color theory and composition. Even the 3d gave me some insight on how to use the 3d program to model and render out efficiently. All the bases seem to be covered with tips on modeling hair, accessories, clothes,  vehicles, landscapes, and of course fleshing out characters and creatures.  One of the best things about this book is the inspiration it will provide. Learning some trade secrets from these digital masters and learning about their thought process is enjoyable as well as insightful.
There is not much else I can say about this book other than it really lives up to it¹s title. Every single artist is a true master of their craft and to be shown how they do it is a real treat. I cannot recommend this book enough and there really needs to be more books like it.