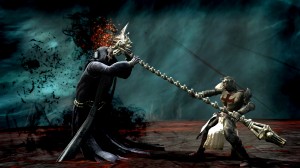 Dante's Inferno  is a mixed bag of unoriginal game play combined with original concepts  hardly ever before seen in a video game.  I cannot say I've ever crawled across a wall of damned souls , been  attacked by babies with knife arms , or nearly been killed by a woman's monstrous vagina. Though the overall experience was a good one, it all seems too familiar as far as gameplay goes.
When I started playing Dante's Inferno one thing was made very clear, this is almost a mirror image of God of War. All the combat mechanics  are exactly the same but instead of Kratos' duel blades you are equipped with Death's  scythe. You get your health, magic, and bonus souls to apply towards new abilities, out of fountains spread throughout hell much like the treasure chests in GOW. You execute your enemies  with over the top violence and are faced against demons that are gigantic in scale. These similarities are, at times, distracting since they are so obvious. This isn't to say the game has a few differences as well.
My God of War rip off frustration aside, this is actually an entertaining game. The story centers around Dante, who must fight through the 9 circles of hell to save his one true love who he found slain upon his arrival home.  I, like many of the people who will play this game, am not familiar with the original poem so I cannot really make any comparisons or complaints concerning that. The poem is available on the game for those interested in learning about it's source material. That being said let's jump head first into hell with Dante's Inferno.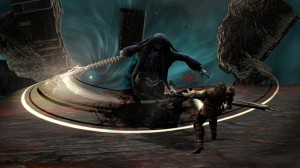 The graphics can either be spectacular or downright choppy at times. Boss battles are large in  scale and as epic as you would imagine, the most memorable being the fight with Cerberus.  When it comes to the environments, common battles, and  elemental effects they just seem to lack the same attention the characters and bosses received. Also one thing that bugged me a whole lot about this game was the fact that the flashback cut scenes are 2D animations. It makes sense I guess since we're zooming into that weird cross Dante has stitched on his chest, but it feels out of place and kind of pointless at times. Then right when you get used to it they decide to switch over to 3d cut scenes? A little consistency would be nice people!  If there's one great thing I have to say about the game it is the enemies, they are so grim and unimaginably gruesome it's always a blast ripping them apart. The twisted mind of Wayne Barlowe is in full effect here and it is because of his amazing designs this game stayed  as interesting as long as  it did.
The combat system is a hit or miss. When fighting you have the choice to punish or absolve your enemies (as well as famous souls you will find scattered through hell which unlocks a capture the sins mini game. The more sins you catch, the more bonus souls you receive and it's actually a lot of fun to play.). You have two different sets of abilities you can upgrade, holy and unholy. They both have their advantages and you will need to gain holy and unholy experience equally to gain all the necessary skill sets.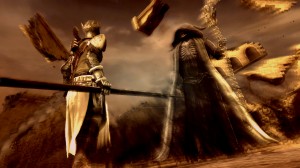 There are plenty of unlockable moves, magics, and combos to kill the damned in all kinds of creative ways. It is satisfying when you are jumped by a large mixture of enemies and you just unleash one killer move after the next to destroy them all. It is not so when poor level design causes you to fall over the edge, or into a lake of molten gold, just for performing an aerial attack or even just being hit into a certain direction. Unfortunately when this happens checkpoints are, at times, few and far between. So that entire puzzle  and the waves of enemies you just spent the last 15 or 20 minutes completing, you get to do that all over again. On the easy difficulty level this isn't so much a problem, but normal is a huge leap from that and chances are you will die a cheap death on several occasions.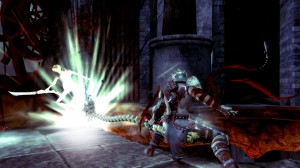 On top of that the puzzles in this game are either really easy or really frustrating. By frustrating I don't mean they are challenging, they are just lame and kind of make you slap your forehead at how simplistic they are.  This is not like God of war where puzzles feel in depth and give you a sense of accomplishment in the end,  but at the very least the combat is fun most of the time when you're not falling prey to gravity.
You are treated to plenty of extras after beating the game (only available on the PS3's exclusive divine edition) like  behind the scenes video content, the full soundtrack, and the original poem. The real treat though is the interview with the artist who designed most of the creatures and hellish environments, Wayne Barlowe. The original look and presentation of the game are thanks to his designs and frankly I think his imagination is far more frightening than anything hell would have to offer.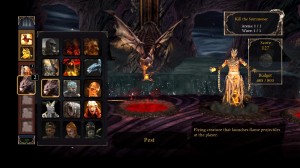 There is downloadable multiplayer known as the  St. Lucidia DLC. This will have online multiplayer where gamers can create their own waves of enemies and other gamers will be able to try them out, rate them, and also play them with a buddy.  It is similar to the Hell's Gates mini game where you have to defeat 50 waves of demons, all of them different mixtures. But it will give the power  of who you fight to the gamers, which I must admit is a little frightening and I look forward to it.
In the end I really enjoyed this game. However it does fall flat for the last few levels. You are put to the test by completing various trials where you must fight waves of enemies under certain conditions. At first this is great, after about 6 times it is repetitive and annoying. Even after defeating the final boss it just kind of ends, no real exciting climax of any kind, you're treated to some dudity (guess they feel the need to appeal more to female gamers?), and that is it..Dante's inferno is bitter sweet, it is definitely not a bad game, but certain drawbacks prevent it from being very good.  I give it a 7/10