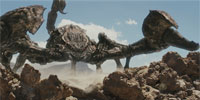 London, UK, April 27, 2010 – Cinesite (www.cinesite.com), one of the world's leading film visual effects houses, will be presenting its work on the recent Warner Bros. hit Clash of the Titans at this year's FMX. It will also be recruiting heavily at the annual conference on animation, effects, games and interactive media, which will be held in Stuttgart, Germany, on May 4-7.
Simon Stanley-Clamp, visual effects supervisor at Cinesite, is lined up to give one of the key presentations at the conference, showcasing the company's work on the Scorpioch battle sequence featured in Clash of the Titans. Simon's presentation will take place on Wednesday, May 5, at 12-1pm in one of the main conference rooms, Meidinger Saal, and will focus on the creative challenges the company faced in bringing this sequence to movie theaters.
Also at the conference, Cinesite will have a recruitment stand (booth 3), for all four days of the show. They're keen to talk to graduates and established artists about opportunities at their London facility. Additionally, they'll be giving two recruitment presentations during the conference which will offer an insight into working for the company and the kind of projects new employees can expect to work on. The presentations will take place on:
Tuesday, May 4, 10-11am: presentation by Anna Ford, business development producer
Thursday, May 6, 11-12pm: presentation by Dayne Cowan, digital development manager
Antony Hunt, managing director at Cinesite, said: "We're very excited to be taking part in this year's FMX and we're planning to heavily recruit artists for all roles – from 2D and 3D compositors right through to animators. I'd encourage anyone planning to attend the show to go to our website, www.cinesite.com/jobs, and check out all the roles we're looking for and then come and talk to us at booth 3 in the recruitment hall."
With one of the largest and most comprehensive facilities in Europe, Cinesite's visual effects team has the capacity and creativity to produce all manner of effects, both digital and physical, for feature films and broadcast projects of all scales. Their award-winning team of highly talented visual effects artists take filmmakers' ideas and turn them into spectacular cinematic reality.
Cinesite is currently working on Harry Potter & The Deathly Hallows: Part 1 (Warner Bros.), Prince of Persia: The Sands of Time (Disney), Marmaduke (Fox), The Chronicles of Narnia: The Voyage of the Dawn Treader (Fox/Walden), John Carter of Mars (Disney/Pixar) and Battle: Los Angeles (Sony/Columbia).
For more information please visit www.cinesite.com.