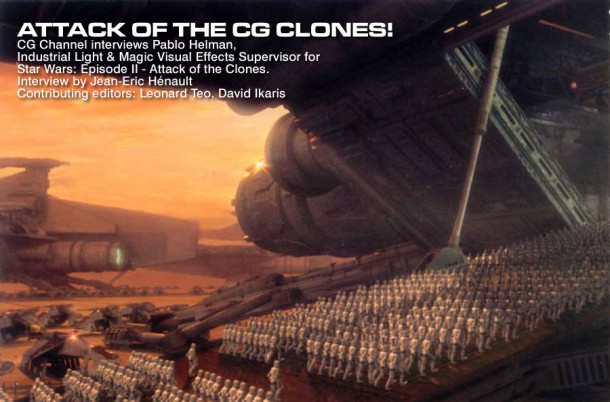 You're not a clone. On 16 May 2002, Star Wars: Episode II hit the big screen along with a dizzying array of groundbreaking visual effects and eye candy. CG Channel's Jean-Eric Henault speaks with Pablo Helman, Industrial Light & Magic Visual Effects Supervisor for Attack of the Clones.
CG Channel: You were a VFX Supervisor for SW II. What does that mean exactly?
Pablo Helman: I was responsible for accomplishing the Director's vision, in terms of getting the CG work done at ILM. I had a crew of about 120 people or so throughout the project and was responsible for overseeing the crew produce 900 shots and 72 minutes of screen-time.
CG Channel: How many shots in SW II didn't have any VFX at all? Anything beyond simple color-corrections, for example.
Pablo Helman: There were probably about 200 shots where the only thing that we did was color correction. However, for us, it is a VFX shot, because everything was acquired digitally. Because of this, everything had to go through the same pipeline as the other shots. So technically, everything is a VFX Shot.
CG Channel: How does this relate in comparison to Episode I?
P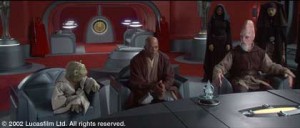 ablo Helman: I think we had about 2000 shots, about the same as in Episode I. Although we had completed about 2200 shots, 200 of them will probably end-up on the DVD but are not in the movie right now.
In terms of the actual VFX work that we did — there were a lot more models, a lot more 3D paintings and generally a lot more work but with about the same number of staff. On Episode II, we had about 500 people working on the film at ILM.
CG Channel: Technology has advanced dramatically since Episode I. How did this affect your production pipeline?
Pablo Helman: W e had to design all sort of different pieces of software. But the main emphasis on this film was on digital doubles and digital environments. A lot has changed since Episode I. One thing that has changed since Episode I is that Episode II was produced in a much shorter period. Even though we had the same amount of work or the same number of shots, the timeframe that we were given was substantially less.
CG Channel: How is that? You hired more people? Technology got better?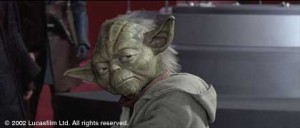 Pablo Helman: I don't think the technology ever gets better. It seems you solve one problem, but you add three more. Things do get more complicated and I think VFX in general for the whole industry is at a point where shows are bigger and more difficult. You need more people to complete the work because technology allows us to do more — and more things doesn't mean that things are easier.
CG Channel: Did you ever have to tell George Lucas something like "No, this cannot be done"?
Pablo Helman: (Laughs) No! We do not say "no" to George. The only thing that can change that is if we run out of time. But, we always love the challenge. We already try to find a solution. It's what we are here to do.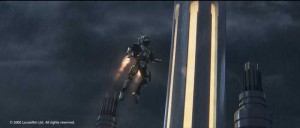 CG Channel: Why is there still so much reliance on practical models and miniatures?
Pablo Helman: Just because you can do it in CG doesn't mean it's the easiest way or the most efficient way to do it. There are some things that are a lot easier and faster to create with miniatures — things that have a lot of atmosphere, things that are big in scale and have a very broad light source, etc.
CG Channel: So it's not just a financial decision then, it's also for technical and aesthetical reasons right?
Pablo Helman: Yes, it's a combination of time, technical and aesthetical decisions and of course, the resources that we have available.
Pablo Helman: Yes, it's a combination of time, technical and aesthetical decisions and of course, the resources that we have available.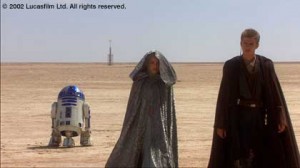 CG Channel: How do you decide if something should be either CG or miniature?
Pablo Helman: A lot of it depends on the art direction. If we expect there will be a lot of changes during production because we cannot pin-down anyone on a decision, then, we use CG because it's more flexible.
For example, on Kamino, where Obi-Wan tours the Clone factory, you see all the babies, the clones and where they are made. In that sequence, we shot the hallways as a miniature because we knew that by building 3 hallways, we could use them for the whole sequence. But what is beyond the hallway, it's CG because there were so many elements in the background that it didn't make any sense for us to shoot any of this. Once you shoot it, you have to live with it. Doing it in CG makes it a lot easier to make changes.
CG Channel Often, live actors are shot on a blue-screen. Are there times when you tweak the performance of an actor so it better fits into the background plates?
Pablo Helman: Actually, that's all we do all day. Even if you only have Ewan McGregor (Obi-Wan) walking on the blue-screen, we do things like resize him, turn him to the left or to the right, create reflection or shadows that were not on the plate and speed up or slow down the plate. All of this changes the original performance. There were some shots where we had to replace arms, hands or even faces from other takes.
CG Channel Miracle Factory?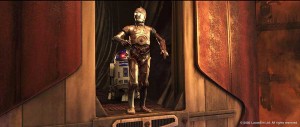 Pablo Helman: Yes. I think that for George, the movie happens in post-production. Once he is on stage, he enjoys being with the actors and he gets the performance he thinks that he needs. Then he gets into the editorial process and makes changes. Sometimes, he will like one performance rather than another, or he will blend performances from two or several different takes. We have the ability to do that, and this is how he likes to work.
CG Channel How did the use of HD affect the pipeline?
Pablo Helman: We did have to create a completely new pipeline for HD work, mainly because HD looks different. We wanted to make sure that when looking at a monitor, for example, it will look as close as possible to the final result.
Everything was recorded from the Sony Cameras in HD Cam file format. The file format of the camera was developed together with Lucasfilm and ILM in terms of what we needed to shoot the project. But the format itself is the same that everybody else has.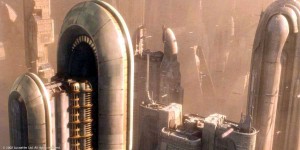 CG Channel One of the most obvious advantages of shooting in digital is that you no longer need to scan film?
Pablo Helman: That was a good thing. We could simply copy them, ship them and even put them on-line right away. Editorially, George had access to the takes immediately. You also save all the resources and financial aspects of going to a film lab to have the stuff developed, then having to deal with variations of brand and chemical imbalances.
CG Channel Did going digital create problems you might not have anticipated at first?
Pablo Helman: I think the HD captured material looks really good. But it's a very sensitive issue because everyone is familiar with film. George was also very sensitive that he wanted people to see this for what it was – a film.
CG Channel You think Digital Film is here to stay or is it just a fad?
Pablo Helman: I think that eventually it will take over. Obviously, there will always be a market for regular film, but it will be just like Vinyl and CD, VHS and DVD. I think that eventually, everything will be done in HD just because it makes sense.
CG Channel Many directors do not seem very comfortable with the new format yet. What do you think will change this, is it just time?
Pablo Helman: No, I think most of it has to do with lighting. People are very comfortable with the warmth that you get out of film. Film is obviously an art form. Once people realize they can tell the same story through HD, they are not going to worry about technology. It's like when they invented the typewriter. It's not what you use to tell the story; it's the story that you tell.
CG Channel What's the biggest difference between working on Star Wars or on any other film?
Pablo Helman: For one thing, you can never say no to George Lucas, which is a good thing from an artist's point of view. You are always challenged, and are always asked to do the impossible. There is a lot of pressure from the public, the audience and the press, just to deliver. Also, George is a very nice person to work with. He's a very candid and a very warm person.
CG Channel What was the most difficult part of the film for you?
Pablo Helman: There are a lot of very difficult things. But the first thing that hits you when you begin is the sheer volume of work that needs to be done. You have to be extremely organized and on top of things. One of the most difficult things for a lot of people is to rely on your team to complete the work and not be a micro-manager.
From a technical point of view, the digital doubles, the digital environments and cloth simulations were the most difficult things we have done.
CG Channel Considering the sheer size of Star Wars, the number of people in different departments, all over the globe working on this project; at the end of the day, everything has to come down on the same plate. How do you manage this "mess"?
Pablo Helman: I think this is a valid question. We all share a specific vision that is George Lucas'. He trusts the Visual Effects Supervisors and the Animation Director to fulfill this vision. Everybody starts being stylized the same way. You obviously have a bunch of people and "watchdogs" that make sure the look of the film is consistent.
CG Channel Did anyone lose hair on this production?
Pablo Helman: (Laughs) I did! And the hair that I have left is white!
CG Channel After working on Star Wars, does everything else look smaller in comparison?
Pablo Helman: After working on Star Wars, you have the feeling that you can accomplish anything. Two years ago, 2,000 shots seemed impossible, but we did it.
Many Thanks to Suzy Starke at Lucasfilm who made this interview possible. Editor: Leonard Teo, David Ikaris