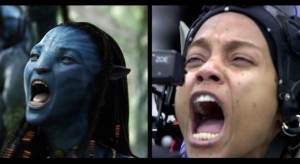 VES is set to host an event focusing on the behind the scenes technology used in the creation of Avatar, Alice in Wonderland and the Motion Capture of District 9. If you want to know how they pulled off the life-like animation and performances of the Navi this is definitely the event to see.
The PGA, VES, and Motion Capture Society present a panel to explore the latest advancements in Motion Capture Technology. From Virtual Cameras to Virtual Worlds and beyond, we will explore the virtual camera technology that was developed for James Cameron's "Avatar" and Tim Burton's "Alice in Wonderland" as well as Facial Capture Technology used on "Avatar" and in the Broadway production of "Shrek the Musical". The Motion Capture work done on "District 9" will also be presented.

To kick off the event we will get a "sneak peek" of DreamWorks Animation's motion capture facility along with a live action demo of the "Measurand ShapeTape and ShapeHand" technology. Then our panelists will creatively enlighten us with real solutions and insights and know-how to capture "human performances".
MODERATOR: Demian Gordon – Chair of Motion Capture Society
PANELISTS:
Manny Francisco – DreamWorks Animation – Real-time facial capture for "Shrek the Musical"
Brett Ineson – Autodesk – Magic Mirror Technology – Animatrik – Body capture for "District 9"
John Root – Imagemovers Digital – Solving Pipeline and Capture Technology for "A Christmas Carol"
Corey Turner – Sony Imageworks – Onset Virtual Camera for "Alice In Wonderland"
Glenn Derry – Lightstorm – Virtual Camera and Helmet used on "Avatar"
Stephen Rosenbaum – Weta – Facial Capture Pipeline for "Avatar"
THURSDAY, APRIL 22nd, 2010
6:30 PM – Registration/Meet and Greet – Light Refreshments
7:00 PM – 7:30 PM – Tour of the DreamWorks Motion Capture Stage
7:45 PM – 9:30 PM – Event
PLACE:
DreamWorks – Campanile Theater
1000 Flower Street
Glendale, CA 91201
FEES:
Free for VES, PGA and Motion Capture Society Members, all Academy, ASC, DGA Members (discount fee $10) All non-members ($20.00 fee)
RSVP:
Please Contact VES (818) 981-7861 to RSVP
For those uninitiated in the art of performance capture check out this behind the scenes look at Avatar.

Will you be there?