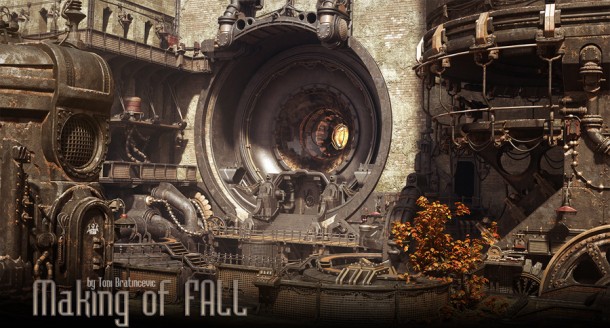 One really cool scene makes us want to see a whole cg world. After the heads up from Stryker on the latest making of we did some digging and found a whole bundle of tutorials waiting for us to dig through on his site.  Some of his other tutorials focus on using Mental Ray, image creation overviews or Global Illumination, but all of them are Maya related.
Give credit where credit is due. Check out this amazing 'making of' from Toni Bratincevic.
"Fall, my latest project was the first illustration I did using a combination of 3DS Max and VRay. After almost 5+ years of experience with mentalray it was a real pleasure trying something new. This was a project I started few years ago, but it never grew to more than initial sketch and simple scene blocking in 3D. First idea for the image was just to create old rusty factory and something mysterious in that tunnel. But as image developed and grew, the main story was formed and from that point the whole image was shaping around that story, it was my main source of motivation and inspiration. I know some artists just sketch and do illustrations, but my way is to create story first and then create the whole environment around that story. It's basically just a flow of creative process, and I think every artist in time finds the best way to develop his ideas.
The purpose of this making of is to show you my working process and to explain some steps during image creation, it's not the tutorial and you probably won't learn something specific like in other tutorials. So, if you want to get some more details about few steps be free to drop me email and I'll give my best to reply."
Go through the entire tutorial at 3dm3.com
or
Check out his website, www.interstation3d.com
or
look at these nifty additional tutorials.
Making of "Slow Decay "

"Slow Decay was one of the first high detailed images that I made in Maya. This tutorial gives a lot of details about that project, from modeling to compositing. Since it has a lot of text I suggest you take some time to complete it."
Making of "A Glimpse Of The Past"

"Another making of, and this time for the Glimpse of the Past image. As usual, I will cover every stage of the image creation process, with focus on texturing."
"Bounded by Destiny" – Overview

"Short overview of my image Bounded by Destiny. I didn't go into details about how I did model/textured etc… the goal was just to cover the complete process from the start till end so the reader can get a feeling how the image was made."
Using Global Illumination in Maya 5.0
"This is my first ever tutorial for Maya. I went through the process of setting up the global illumination in Maya. It is divided in four sections: two sections for interior lighting, one for exterior lighting and one for HDRI lighting. It was made for the first release of mental Ray within Maya 5.0 so if you have older version of Maya you can use it but if you have newer version I suggest you read new tutorial (above) on global illumination."
Using Caustics in MentalRay for Maya

"This tutorial explains the process of setting up the caustics effect in Maya. It is made for beginners and intermediate users. Tutorial explains how to setup caustics step by step trough three examples."
Realistic Lighting with LDRI images

"This tutorial talks about interesting process of scaling colors in LDRI images to create effect similar to using HDRI images. It would be wise to learn something about final gather and global illumination if you want to pass through this tutorial without any problems."