Advanced technology is everywhere these days. It dominates so many aspects of our modern lives, that most of us take it for granted. Sophisticated tools and resources that just 30 years ago could only be found in the pages or on the screen of some science fiction novel or movie. However, there are those of us uber tech heads like myself  that take notice of this advanced technology surrounding us, and appreciate it for what it is, and the contribution that it makes to the operation of our daily lives. In fact, many digital artists fall into this category, as the tools and the workstations they run on are of vital importance and can be the difference between an enjoyable experience of artistic expression, or the sanity eroding nightmare of staring at the screen for 3 weeks waiting for that last frame of your animation to finish rendering. ( I specifically remember a simple ray-traced scene rendering on my old dual Pentium 2 @ 400Mhz back in 1999 that took 3 days to render a single frame at 1024 x 768! At the time it was frustrating enough to make you want to start wearing an excessive amount of plaid and hang out at oxygen bars all day!) Historic moments aside, it is time to take a look at the next installment of our HP workstation reviews, the mighty Z800.
I've had the pleasure of spending the last 7 months with HP's entire line-up of professional workstations Starting with the entry level, but still quite powerful Z400, to the mid-range Z600, which I personally find to sit quite a bit higher in performance than what most people would expect from a mid-range system, to the high-end Z800 system that we will be looking at today. ( if you haven't been following these reviews, you can catch up with the Z400 review here and the Z600 review here.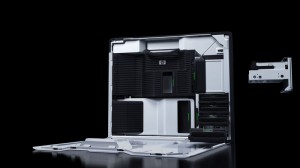 Now from a specification and performance viewpoint, the Z800 and the Z600, are rather similar, both offer dual CPU socket designs to accommodate dual quad core Intel Xeon CPU's based on the current Nehalem architecture. The biggest difference between them is expandability. The Z800 sits in a larger case that has more room for expansion peripherals. For example, the Z800 has 5 internal HD bays, while the Z600 has 3, the Z800 has 4 full size x16 PCI express slots  2 of which have 16 PCIe lanes, and 2 that have 8 lanes of bandwidth, while the Z600 only has 2 x16 PCIe slots, the Z800 has enough RAM slots to support 192GB of RAM while the Z600 only supports up to 24GB.
Also, the Z800′s power supply can run a pair of Nvidia's high-end Quadro FX5800 graphics cards, while the Z600 can only push 2 Quadro FX3800′s. The basic CPU performance however is quite similar, as both systems offer CPU's based on the same architecture, and both sit on a workstation / server Mainboard running the Intel  workstation 5520 chipset, although, the Z800′s board has 2 5520 chips on it for additional PCIe lanes.. The Z800 supplied by HP does run a bit faster than the Z600 from the previous review due to the fact that the Z600 was running a pair of Xeon 5560 CPU's @ 2.80GH while the Z800 is running a pair of 5580 CPU's running at 3.20GHz
Before we get into testing results, here is a quick rundown on the specs of the Z800 system we are looking at here. 2 Intel Xeon 5580 quad core CPU's @ 3.20GH on a custom HP dual socket mainboard running the a dual Intel 5520 server chipset / 18GB of DDR3-1333 memory / An Nvidia Quadro FX5800 graphics card with 4GB of GDDR3 memory / a 160GB SATA Hard Drive and a 500GB SATA Hard Drive / Windows XP 64 bit edition SP2. And finally, displaying all of this processing power, we have one of HP's beautiful 30 inch performance display's, the HP LP3065 running a desktop resolution of 2560 x 1600.
( Note: all application testing was done at resolutions of 1920 x 1200, and 2560 x 1600 )
For comparison, the control systems I compared the Z800 to are as follows:
The HP Z400 & Z600 from the previous reviews / Core 2 Quad Q9550, Q6600 / Nvidia 780i motherboard / 8GB DDR2-800 memory / WD 150GB 10,000 RPM raptor HD, and a 1TB data drive / Nvidia 8800GT Video Card, and an Nvidia GTX260 Video card. ( I run the GTX 260 with the Q9550, and the 8800GT with the Q6600. ) And again, all of this is running Windows XP Pro 64 bit edition.
3ds Max 2010 / Brazil Rendering / Vray Rendering / Maxwell Rendering
Vray Benchmarks:
Here we have the same tank model rendered with Vray 1.5 SP4a. Now we really see the power the additional CPU adds over the single CPU Z400 and the Core2 Quad systems.

Here we have a 1.5 million polygon of the SDF-1 ship from the 1980′s animated television show, ROBOTECH. This model is rendered with the Brazil 2 rendering system. Now Brazil is threaded extremely well as you can see 4 more cores and a bump in clock speed yields a massive performance increase over the Z400 and Core 2 Quad single CPU systems.

This Fiat 500, also provided by Evermotion, was rendered with Next Limit's Maxwell Renderer. Like Vray & Brazil, Maxwell is fully multithreaded, so adding 100% more CPU cores gives us almost a 100% increase in performance.

In the Softimage viewport framerate test, the Quadro FX5800 takes the gold medal, outpacing the FX1800, FX3800, the 8800GT, and the powerful GTX260.

Vray Benchmarks:
Next we have an architectural scene provided by Evermotion also rendered with Vray 1.5 SP4a. Again, the Z800 shows a commanding lead in performance over the Z400, Q9550, Q6600, and a slight lead over the Z600 due to the higher frequency of the Xeon 5580′s over the Z600′s Xeon 5560 CPUs.

Vray Benchmarks
Also rendered with Vray 1.5 SP4a is this Mercedes SL500 model. Results are similar to the previous tests, with the single CPU systems at the bottom of the list, and the dual CPU Z800 & Z600 at the top due to the 8 cores vs. 4 cores of the single CPU systems.

With the Heavy Gunner Maya viewport frame rate test, the Z800 takes the lead in both high quality hardware rendering test, and low quality mode test.

Here we have our MAYA cloth flag simulation. The Z800′s top-of-the-line Xeon 5580 CPU's allow it to take the lead in this test.
First we will look at performance with Autodesk's 3ds Max, and several popular rendering packages. Using Max on this system is a very nice experience. Max's overall performance in object manipulation, and editing is the fastest I have ever experienced. Ddue to the Nehalem architecture and the high 3.20GHz clock speed. Rendering is especially fast on this system and the Z600 due to the 2nd quad core CPU.
It's interesting how these days, it's all about the race to add more and more CPU cores, witch which is a great thing for the future, however, the software still has quite a way to go to catch up to today's hardware, especially when it comes to CPU core count as most consumer software is not multi-threaded witch is what you need for a program to take advantage of multiple CPU cores. Luckily for all us 3D graphics junkies out there, 3D rendering software is multi-threaded, and has been for over a decade now. In fact, rendering software is some of the most optimized software for multi core / CPU systems that exists today. It scales almost linearly with the addition of each CPU core.
What does than mean you ask? Well, simply put, it means that you get roughly a 85% – 100% increase in performance with the addition of each coreeach doubling of the number of processor cores or the addition of an additional processor. A dual core system will render at roughly twice the speed of a single core system of similar specs, a quad core will run at 4 times the speed of the single core, an 8 core,  8 times the speed, and so forth and so on, up to the software's CPU cap. ( most modern software renderers today max out at either 16 or 32 cores ) There is a diminishing return on each core you add, but it is quite small.
So, like the Z600, the addition of a 2nd quad core CPU in the Z800 offers a large performance boost to rendering speeds. The Quadro FX5800 in the Z800 is Nvidia's top-of-the-line professional graphics card, and with 4GB of onboard RAM, it has no problems pushing lots geometry at a screen resolution of 2560 X 1600 ( the native resolution our HP LP3065 )
MAYA 2009 / Softimage 2010 / Mental Ray
Next we have Autodesk MAYA and Softimage, as well as rendering with Mental Ray. Like Max, Maya also runs quite well on this system, averaging similar increases in performance over the Z600, Z400, & the Core2 Quad systems. And like Brazil, Vray, and Maxwell, Mental Ray is fully multithreaded, so you get similar speed increases with the addition of the 2nd quad core CPU.
Also here we have Autodesk's Softimage. Now the interesting thing about Softimage, is that it is very fast compared to Max & MAYA. Overall object editing and manipulation seem to be nearly identical performance wise on all 4 systems, with the Q6600 showing only a slight decrease in horsepower. There is a more discernable difference in viewport frame rates between them, but all 3 are fast enough that the difference doesn't really matter until really massive scenes with 10+ million polygons and lots of textures are loaded.
Mudbox 2010
With digital sculpting becoming all-the-rage these days, I just had to benchmark 1 of today's popular sculpting programs, Autodesk's Mudbox 2010.
Here we see a high resolution character model in Autodesk's Mudbox 2010. This test is interesting as the Z800 commanded a very large lead in performance over the other systems. While the control systems and the previous 2 workstations all seem to start slowing down in the viewport between 24 and 26 million poly's, but still have fluid editing, the Z800 was reversed. With the Quadro FX5800, and the system's 18GB of RAM, I was able to subdivide my model to an amazing 135 million poly's! At this point, viewport performance was still fast and fluid, but sculpting of the object began to slow down by a significant margin.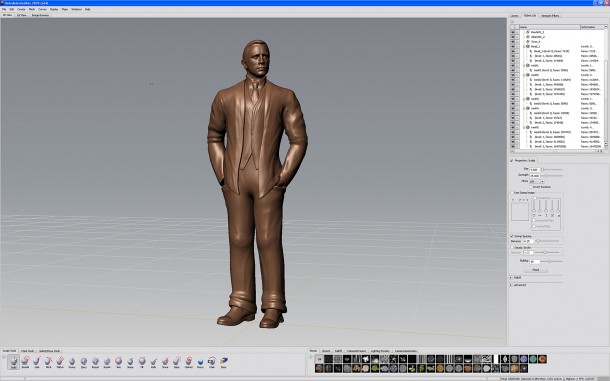 Adobe Photoshop CS4 / AfterFX CS4 / Premier Pro CS4
Next I am doing a little Adobe CS4 tests. Specifically, Photoshop, After Effects, and Premiere tests. Photoshop is not really a system intensive application. The thing that Photoshop really likes, especially now that there is a 64 bit version in CS4, is lots of RAM. The 18GB Ram configuration of the Z800 lends itself quite well to Photoshop. Despite this though, performance in Photoshop is almost identical between the Z800, Z600, Z400, the Q9550, and the Q6600. The biggest difference is that PS seems to bet be faster at switching between images when you have many large images all open at the same time.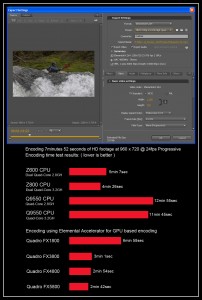 After Effects CS4 saw a bit more of a disparity in performance between the systems. With a moderately complex composition, ( 3 footage layers / 4 effects layers / 2 color correction layers ) the Z800 saw about a 8% lead over the Z600 witch had a 12% – 27% lead over the Z400 and test systems when scrubbing the time line and in overall editing performance. Rendering the composition in After Effects yields similar results to the 3D rendering benchmarks. Since it is primarily a CPU bound task, the performance crown, once again goes to the Z800. Rendering our composition took 2minutes 23 seconds vs. 2 minutes 48 seconds on the Z600 vs. 4 minutes, 32 seconds on the Z400, 5 minutes, 4 seconds on the Q9550, and 5 minutes, 38 seconds for the Q6600.
Premiere, like Photoshop, seemed to yield very similar performance across the 3 systems, the only real difference is with encoding times.  The Z800 offers a slight edge over the Z600 and a bit more over the Z400 & control systems in encoding times when using the CPU to do encoding. Now since this system ships with a QuadroFX graphics card, this also gives you the ability to use Elemental Technologies Elemental Accelerator plugin witch uses the video cards GPU to perform Video Encoding & decoding. For more information, you can take a look at my recent review of the Elemental Accelerator here:
http://www.cgchannel.com/2010/02/elemental-accelerator-product-review/
One last thing I want to touch base on here is the subject of multitasking. With 8 physical processing cores / 16 virtual cores with hyperthreading enabled, this system is quite the multitasking beast! To test this, I performed rendering tests with 2 sessions of 3ds Max running and rendering at the same time. I tested this with the Brazil 2 rendering system, and Vray 1.5 SP4a. With Brazil, I manually set the software to Spawn 4 threads for each session running, and in Vray, I set low priority thread mode. This effectively causes each session of the software to use 1 of the 2  available CPUs. Results were as expected, as each session performed about the same as the Z400 or any other single CPU system with similar specs. So there you have it, you can now render multiple scenes at the same time on 1 system!
Now there have been only a handful of small dislikes about the Z400 and Z600 systems, and there are even fewer for the Z800. Like the Z600, the Z800 offers minimal audio hardware from the integrated audio. You would think that for such a high level system, you would get at least the same level of audio hardware that you find on most gaming desktop systems. This is small, but it would be nice to see the audio hardware upgraded in the future as most DCC and graphics professionals will occasionally use their system for gaming and media viewing in addition to their professional work. ( You can add a Creative X-Fi Titanium audio card as an option, but that does take up 1 of your PCI express slots, and I personally would like to see better quality integrated audio on the mainboard. ) The next complaint, and this is also small, but noticeable, is that while this system is very quiet, it does not possess the near silent or silent qualities of the Z400 and Z600 systems. While it is not really a very loud system, it does emit a distinct high pitch whine that while not very loud, it's frequency makes it very noticeable even when there is a decent amount of noise in the room you are in. I found myself having to turn up the TV volume a bit to drown out that particular noise. Now whether or not this is indicative of all the Z800′s, or it's just an issue with the one HP sent over to me, it is a bit on the annoying side. So there you go, 2 small complaints for this system, all in all, pretty good.
Ok, so to wrap it up here, like the Z400 & Z600, the Z800 is a real winner, offering ultimate workstation performance in a very attractive package. Compared to other systems in it's class, it really stands out as a high quality system in my opinion and working with it has been a real treat! With such high quality systems as the Z800, it isn't surprising that HP is currently the #1 volume PC vendor world wide.
You can find more information on the complete line-up of HP systems on their website:
www.hp.com
I'd like to give a special thanks to several vendors and individuals for their contributions to this article:
Autodesk
Adobe
Chaos Group
Splutterfish
Next Limit
Nvidia
Evermotion
Kiley Wiedeman
Dan Platt
Chad Morgan
Stephen G Wells
Stephan Dube