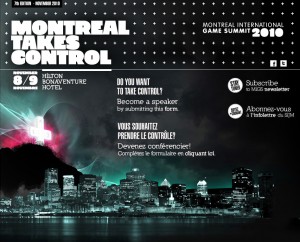 The Montreal International Games Summit is happening again this year on November 8th-9th in downtown Montreal (Canada). They've just put up the call for speakers, so if you fancy yourself speaking at the conference, head on over to the website and send in the speaker form!
Montreal is home to some of the largest game studios working on AAA games: Ubisoft (Assassin's Creed, Avatar), Electronic Arts (Army of Two, Bioware) and Eidos (Deus Ex 3, Thief 4). Through the participation of the industry, MIGS has become one of the world's hottest games conferences outside of GDC.
Last year's MIGS conference had a fantastic line up of sessions including the Making of Machinarium (Jakub Dvorsky, Amanita), Cinematics sans Cutscenes (Jonathan Cooper, Bioware), Teamwork and Creative Process (Steambot Studios) and more. I think this year is going to be a blast too.
Related links:
Montreal International Games Summit 2010 – Call for Speakers
Montreal International Games Summit 2009