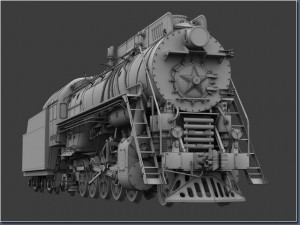 We came across this 'making of' by Andrew Averkin on 3D Total. From reference photo searching to scene set up and rendering it winds up being one useful walkthroughs we've seen. The level of detail is pretty amazing check out out Andrew's Making of Steam Traveler
It's very, very strange, but for some reason I knew before I started that I was going to do a train – it was kind of like déjà vu. A few months back, I was with my friends at an old plant near a railway, in search of industrial pictures and maybe some new ideas. A not so great situation happened at the plant – we met a covey of large street dogs. Well,
no, not really – the covey of large street dogs met us. These dogs had strayed onto the factory site in search of food and their hungry look obviously told us, "Boys, it is time to sit down on a boat and cast off!"

The look on my friends' faces reminded me of the look of fresh chicken, which is going to be prepared for the New Year table. Strange, but it's in exactly those kind of extreme situations that new potential and new possibilities are discovered. I learned that I was better than Spiderman at jumping out of broken windows and climbing through a two meter brick wall, which I would never have been able to climb over. I was luckier than some of my friends and even had the time to take a couple of pictures of quite a good training, which was passing near the factory.