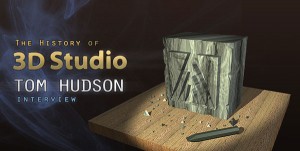 Since 1990 3D Studio has been available to the public. Max Underground takes a look at the history of 3DS in this great interview with Tom Hudson – known for his work in developing 3D Studio, Solid States, and CAD-3D. Remember the original 3D Studio for DOS?
"Back in the early days of 3DS, we were trying to get our code efficient enough to generate reasonably-realistic images in a reasonable amount of time, so we took all sorts of shortcuts and used various cheats (many gained from attending SIGGRAPH!) to get there. The machines we were using had 32MB of memory, which we thought was heaven itself, but compared to machines today, it's nothing." – Tom Hudson
Find out everything about its development from before it even had an undo system to its use across the world today. Read more.