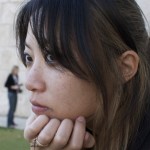 Can you tell about your experience on Avatar?
I actually started working on the skin textures on the banshee. Starting on just a corner at first, then  I did the complete patterns once the main shape of the banshee was made. From there, I worked on the tail shapes, riding accessories etc. and on to other creature bits…..
The other projects I worked on varied, from working on glow patterns for worms, costumes for the fire dance, bits and pieces of accessories for the Na'vi leads, and various props for Na'vi life. It was nice to have a steady stream of things to work on.  If I was on a roll, I'd be thrown an entire set of things from that group to work on. Like the banshee riding accessories. I was working on the saddle, but then I also did the banshee riding grips or other creature saddles and war decorations, just to get the designs flowing into each other better.
What were some of your favorite designs to work on in Avatar?
I liked a little bit of everything. Most of the things were really fun to do, but I did enjoy doing the patterns on the animals alot. It was fun to come up with different shapes for different species. There was also a glowing aspect on many of the creatures that didn't make it onto the film,but those were really fun to do as well !
As a concept artist, how many iterations do you need to show the director?

As a concept artist, you need to do many versions. You'd be extremely lucky if you got the first drawing to go the way someone wants it. It may seem that there are only a few "money shot" concept art moments, but its not true. You always need to be prepared for changes.  Things may need to be tweaked and retweaked as other things around it change.  Sometimes if something is left more open than other assignments,you need to show the different ideas you have, that is if you have any.  For the assignments I did, there were lots of changes, sometimes last minute creature shape changes, and I have to change the way a graphic fits across the creature, or a scene might changes and I would have to give a new look to something,  I'd remind myself that its important to be open.
What are some of the other films you have done concept work for?
I also worked on Tim Burton's Alice in Wonderland, where I did some  set decorations, props and character work. I had a blast looking at inspirations and doing interpretations of them. Like weapons, characters, even wallpaper and things I would fantasize having in my home. On"Star Trek"  I did some character embellishments, and some background character designs.  On "Tropic Thunder" the dead panda costume.
What are some of your influences as an artist?
I like a lot of everything. Little pieces here and there. I love art nouveau, old illustrators, anime, retro graphics, nature bits, anything that interests me. All sorts of styles from the past to the present, there's always something interesting to be found somewhere in there. Even musicians influence me, I love da musics.
!
My favorite thing about being a concept artist, is that I get to do all sorts of things instead of just one thing. I like the challenges of a new project, and it's fun to think of random things for random moments in a story. In addition I get to do different styles and different time periods,and its fun to re-interpret different characters, objects and moments! Its just more interesting than doing the same thing over and over again.
What is you biggest fear as a concept artist?
Well, being an artist, you never really know what's gonna happen. I think we have to live with a constant state of unknowing. One doesn't really worry about that when they are creating. But I think for some people, the unknowing is a fear. You just know what you know and can hopefully be inspired in the future to constantly create. There is always an answer for something, they just come in different forms.