What does a Lead Character Artist do from day to day?
A Lead Character Artist is probably pretty different depending on the company you are at. Naughty Dog tends to choose the leads based off of the people who know the most about a particular area of expertise and who will push the envelope in their respected area. They are also the point man when any problems arise so that people don't have to figure out who to chase down.
When things start to pick up in production, work does get a bit crazy. Not only am I responsible for major characters in the game, but I am constantly running back and forth making sure everything is working the way it should be. This includes checking to see that things are getting done on time, that everyone else on my team is up to speed, and that all of the work meets the level of quality needed.
As a Lead we frequently have to make decisions that can affect the entire game on the spot. This is where experience comes in to make smart decisions that you believe can work, even if they end up not being the best decisions in the end. This trust is what makes Leads at Naughty Dog so unique and respected. Everyone who is a Lead knows the pipeline and has had tons of working experience in the game industry so they are trusted to make sensible decisions. This working knowledge is why we feel we can be so successful with the chaos of game production.
Why did you choose to work as a character artist?
After my first job (which entailed everything from modeling to texturing and animation in cinematics) I realized that the games industry was changing and becoming more specialized. This meant I had to really choose one path to be my primary focus. I chose characters for a couple of reasons. With characters, you tend to have the freedom of doing everything from start to finish. This allows me to call something my own. Another reason is that characters tend to be the focus of many games. Maybe it's the ego in me but it's a pretty cool thing to be able to say you created a recognizable character, especially someone on the level of Nathan Drake!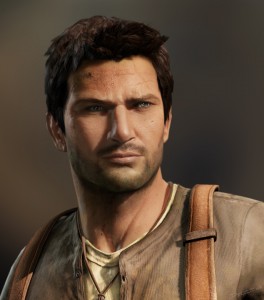 Can you tell us about some of the work you did for Uncharted 2?
Because Uncharted 2 ended up becoming a little crazy throughout its production, I found myself doing more management, delegation, and pipeline work than actual creation. I also created tools that would help the team get things done at a quicker pace. Including several proprietary tools and specific tools. Ranging from modeling tools, to uv tools, to file management tools, as well as individual scripts that might get certain tasks done more efficiently. That knowledge has also helped in the creation of shaders, debugging of issues when characters go in-game.  Sometimes I would have to figure out better ways to light the characters, decipher why characters or environments look flat in certain places, and why artifacts would arise in certain lighting conditions, etc.
Nathan Drake: I was responsible for everything on Drake. I did the modeling, texturing, shader setup, etc. He was definitely the most challenging character in the game, especially coming off of Uncharted 1. I wanted to make improvements to him but had to be really careful not to change too much so people would not recognize him. If you compare Drake from Uncharted 2 to Uncharted 1, you should be able to see some differences. He is bulkier, a little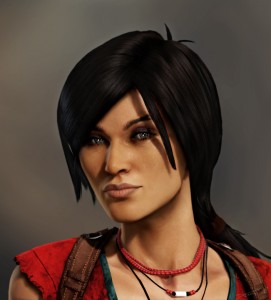 more defined, has higher resolution maps, better shaders, etc. He was completely redone from Uncharted 1 to Uncharted 2. I am very proud of the quality we were able to achieve with him overall.
Chloe: For Chloe, I worked on the modeling, texturing, and shaders for her head. This included Chloe's hair. This might not sound like a major task, however, she is a very main and important character in Uncharted 2. She had to represent a level of beauty while maintaining a very grounded level of style. She was very difficult since you couldn't use the standard "what makes a girl pretty" rules. She also was someone who was heavily scrutinized since she is a major part in the overall story. She had to really appeal to a different crowd than the people who like Elena. Female models also tend to be a little more challenging since nobody tends to say that a man is not pretty enough! Everyone has their own opinions on what makes girls attractive. While creating an iconic character like Chloe, I had to deal with many opinions!
Shambalan soldier/guardian: This was a fun character to make. Since he was not a main character, you tend to not get the same level of scrutiny involved. I was responsible for creating the main body of the character. The armor pieces that you might see in-game were created elsewhere. I enjoyed taking a little departure from the standard body type and embraced the chance to create more of a hulk-ish type of model. Simple and fun summarizes this character.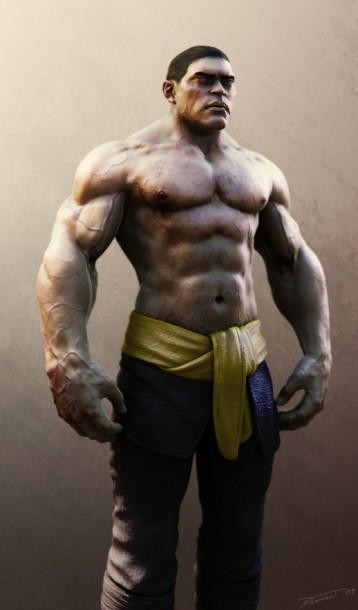 Can you tell us about the class you started teaching at Gnomon?

I got asked to teach a Character Creation for Games class at Gnomon. When I was asked to teach the course, I was given the freedom of revamping the curriculum and pretty much tailoring the class to my satisfaction. I think that is a pretty cool thing that Gnomon does. They trust the instructor to do what's right for the students. On that note, I'm trying to gear the class a bit more in the art and technical understanding of what its actually like to work as a character artist in the game industry. I  want them to start to understand the entire process, on a more top down level, so eventually they can become the leaders in the industry instead of the followers.
Funny enough I tell my students that making characters for games is really only really 50 percent art and 50 percent trying to figure out why things aren't working! In reality, it's probably a lower percentage of art, I just don't want to completely scare them!
The class itself, is designed to help you get your feet wet in terms of what it takes to become a character artist in games. Though if you have some knowledge of creating characters it will help you get the most out of the class. The reality is most people are not going to come out of this class as an amazing character artist after only 10 weeks, but they are going to learn the necessary steps to becoming that artist and how to become the person that people will go to for guidance instead of the person who sits in the corner.
What's your advice for those wanting to break into the industry?
Work hard! There are a ton of people who want to break into the game industry. The only thing that will separate you is the amount of time you put in. It is typically said that it takes something like 10,000 hours or so to become a master at anything. So get started!
Besides your actual work ethic, I'd say do as much research as you possibly can. There is so much information available online that it's a shame to not use it to your advantage. Study the ways professionals are working. Make sure you are up on the latest trends and technical know-how. One little industry tip is to try to stay on top of when games are going to be released. Companies tend to need to hire very fast when they start reaching the end of production. They realize they can't get things done with the people they have so they end up hiring a bunch of juniors or temps. This can be a great way to get your foot in the door.
Just know that this is not an easy industry. Even when you get into a company, you have to constantly work at home to improve and keep up. Even now I sometimes have to work until 4 o'clock in the morning. If you want this bad enough, though, I believe it's possible. Good Luck!
—
Buy the game and see more behind the scenes features, artwork, and interviews!
Tags: 3d character, CG character, Character Artist, digital sculpting, lead character artist, modeler, modeling, Nathan Drake, Uncharted, Uncharted 2, video games, ZBrush