Gnomon Workshop just came out with not one but 3 new training dvds from comic illustrator David Finch. The new series is designed for those artists who want to achieve great looking anatomy but don't have time to dig up the reference.
"Dave Finch is one of the most dynamic illustrators working in commercial art today. His amazing layouts, his unique character designs and his extraordinary flair to create exciting images are nothing but top flight. And it's fun… something that's incredibly difficult to pull off and he does so consistently."

Jeph Loeb – ?Eisner Award winning writer ?Co-Executive Producer, Heroes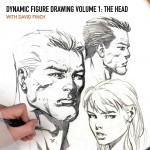 DYNAMIC FIGURE DRAWING VOLUME 1: THE HEAD
He starts with a basic head shape and demonstrates the structural breakdown from multiple angles. He then focuses on the various features including eyes, noses, lips, ears, necks and hair. He discusses important landmarks, features and proportions. David brings it all together to draw a series of completed heads, from basic male and female heads to heroic examples. Lastly, he covers lighting on a simplified head shape to help you understand the rules governing placement of dark and light shapes.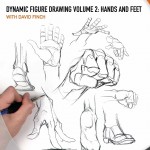 DYNAMIC FIGURE DRAWING VOLUME 2: HANDS AND FEET
Hands and Feet are problem areas for aspiring artists no matter how good you try to be certain flaws are a dead give away for lack of skill. David discusses common mistakes and how to avoid them. He covers fingers and toes in detail, demonstrating how to draw them flat and in foreshortened perspective from multiple angles. He demonstrates some easy shortcuts and tricks, including use of negative space and dynamic folding between the fingers and thumb. Lastly, he draws completed hands and feet from multiple angles, covering the differences between male and female hands and subjects such as drawing claws, fingernail details and shoes.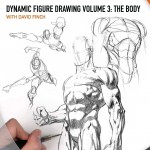 DYNAMIC FIGURE DRAWING VOLUME 3: THE BODY
David starts with simple tube form shapes, and then covers the placement of muscle throughout both the male and female bodies. David demonstrates how to pose a simple tube form effectively, allowing you to block-in and draw a figure in perspective and in a variety of poses. He discusses balance, posture and presentation, emphasizing line weight and lighting. Finally, David puts everything together and draws fully realized bodies with a variety of intricate poses, and a variety of proportions and details.
Tags: anatomy, batman, body, comic book, David Finch, drawing, feet, hands, head, illustration, top cow