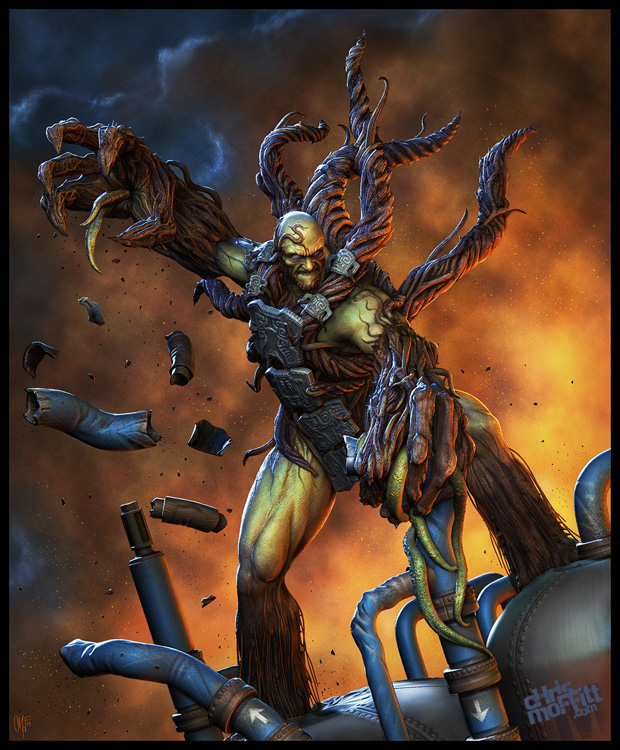 Can you tell us about your background?
I started drawing when I was 4 years old. I was really into comic book heroes and video games and I loved to draw everything from Disney characters to bloody ninja battle scenes. When I was in high school I discovered Image comics and I would try to draw like Todd McFarlane, Jim Lee and Dale Keown. I would always daydream about having a job where I could sit and draw comic book art all day. Around the same time I started to really get into films with CG effects. When I saw Jurrasic Park, I was amazed that a lot of the dinosaurs were computer generated by artists.
At that point, I knew instantly what I wanted to do. I had no idea where to even begin to pursue a career like that, so I joined the Marine Corps instead and for 4 years I worked on aircraft and travelled around the world. In my free time, I was constantly drawing and trying to better myself as an artist. When I got out of the military, I heard about this art school that offered a degree in computer animation. I quickly enrolled and I knew right away that a career in CG art might actually become a reality.
I had never used a computer to make art before and for a long time I struggled with the software I was using for my class projects. A few times I thought about trying to be a concept artist instead. After a couple of semesters, I finally started to get used to the software and I slowly started churning out character models. I really wanted to have a wide range of character types so I modeled a cartoony character, a couple of anime styled characters, an organic creature and a robotic bug. During the graduate portfolio show, local game studios came by to grab demo reels and a month later, I landed my first job in the game industry.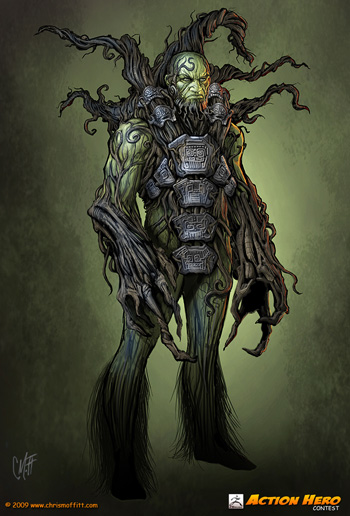 Who or what are some of your influences?
Movies like Jurassic Park and Terminator 2 peaked my interest in CG but I was mostly inspired by the artists I knew from comic books. Artists like Todd McFarlane, Dale Keown, Geof Darrow and Jim Lee. Later on in life, I would discover Alex Ross, J. Scott Campbell, Joe Madureira, Travis Charest and Adam Hughes.
What was your first job in CG?
My first job was with Paradigm Entertainment working on the PS2/XBOX title: Terminator: Dawn of Fate, a prequel to the original Terminator film. I was a character artist on the project and that was when I first learned how to properly model, texture and skin a character for game development using poly and texture limitations.
What process do you follow when creating CG characters?
I like to rough out shapes using simple geometry and make sure that my concept will translate well in 3D. Once I feel like all the elements are working, I will usually build clean base meshes to take into Zbrush. Lately though, I've been trying to build everything in zbrush using zspheres and primitive shapes. I can then start focusing on all the primary forms and masses and making sure it all reads well from a distance. I then add the secondary or medium size details and then finally the small details like pores and wrinkles. When I'm laying out uvs, I treat it like a big puzzle, constantly rotating uv groups and moving things around, trying to utilize every bit of texture space until it's all crammed together. I'll then generate my normal and ambient occlusion maps and using those as a base, I begin overlaying all the texture details. I also like to use CrazyBump for final touches to put some bump detail back in, if some of my smaller details were lost in the normal map bake.
Where do you currently work?
I currently work for Robot Entertainment in Plano, TX. It's an amazing company full of very talented people and I'm very lucky to be there.
Do you have any advice for other aspiring CG artists?
If you're looking to create characters, the main thing I would stress is know your anatomy. I've seen some really detailed models and concepts out there that are amazing at a glance but when you step back, the anatomy may be wrong or the clothing and armor may not conform to the body correctly. If the correct form is not there, then all the details are really just distracting the viewer from its flaws. I've also noticed that some artists may have correct anatomy but get so busy with detail that there's nowhere for the viewer's eyes to rest. I've learned that it's important to have a nice balance of large, medium and small details with some empty areas as well.
Can you tell us about your work in the video game industry?
I started at Paradigm Entertainment and over a four year period, I worked on Terminator: Dawn of Fate, Mission Impossible: Operation Surma and Terminator 3: The Redemption. I was mainly a character artist on all 3 games but on Terminator 3 I also created vehicle and weapon models. From there, I went to DNA Productions for a year and a half to work on the film The Ant Bully. I modeled characters and props and setup character rigs. After The Ant Bully I wanted to get back into making games and was hired at Ensemble Studios to work on Halo Wars. While working on Halo Wars, I created several characters, weapons, props and buildings and had the chance to do some level work as well. During my two years at Ensemble, I competed in the Dominance War competition twice and had such a blast. I learned so much and became so much more involved in the CG art community.
What is the most important thing that students pursuing game art should be aware of?
Be prepared to never stop learning. In this industry, you really have to stay on top of technology or you'll get left in the dust. ZBrush is a perfect example. It has completely changed the way game art is made and it can speed up your workflow immensely. It's crazy because just when you get comfortable with your process and tools, something new comes along that you need to learn and you really can't let it intimidate you. You just have to dive in and adapt to it right along with our ever-changing industry.
Do you tend to come up with character concepts and sketches before you start modeling and sculpting in 3D?
Yes, most of the time, if I'm creating an original character I will sketch out ideas and sometimes do a finished concept. Sometimes I will leave certain areas of detail vague and then work them out on the model. For instance; if my character has a bunch of armor that I know will need a decorative pattern, I may not concept that part and just come up with a design in the texturing stage.