Luma Pictures Explores the World of Vampires and Werewolves for "Underworld"
Visual Effects House Crafts 3D Environments, Creature Transformation and More for Stylish Horror Film
Luma Pictures helped to conjure up a dark, formidable and fabulous world of werewolves and vampires in providing visual effects services for Lakeshore Entertainment's sensational new horror thriller Underworld. A team of some 20 artists from the studio took part in the project, crafting astonishing visuals ranging from 3D matte paintings of central Budapest, to the partial transformation of a man into a werewolf, to the creation of microorganisms representing creature transformations on a cellular level.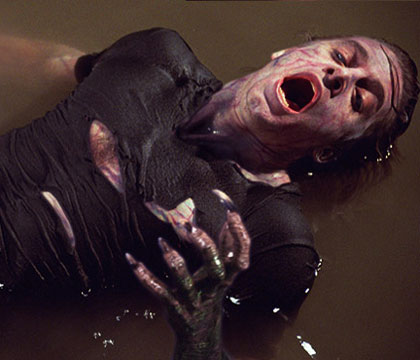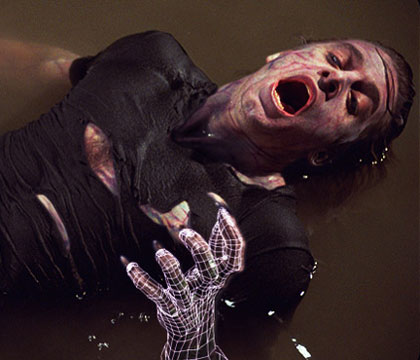 Directed by Len Wiseman in his feature film directorial debut and starring Kate Beckinsale, Scott Speedman, Shane Brolly and Michael Sheen, Underworld is a gloomily glamorous tale of a war between vampires and werewolves, and one that is driven by engrossing action and stunning visuals.
Led by visual effects supervisor Payam Shohadai, Luma's team applied its signature skills in digital matte paintings to create several artificial environments for the film. Among them were backgrounds for three scenes following cars through Budapest and the nearby countryside. Using production shots from the film and other architectural references, Luma artists reconstructed in spectacular detail Budpest's century old architecture in 3D and added numerous atmospheric touches to match the film's dark, brooding sensibility.
Integrating the digital backgrounds with the live action footage was acutely challenging, as none of the car sequences was shot against green screen. The compositors had to rotoscope all of the details of the live action elements. "It was a very dark environment in which the actors were shot against black," recalled Shohadai. "In addition, the actors had long hair which had to be painstakingly rotoscoped so the 3D environments could be dropped in. The results were incredible".
Luma's creature transformation was another challenging shot. The sequence shows a male character lying on his back in a pool of water and watching in horror as his arms become the clawed limbs of a werewolf, while the rest of his body begins a lengthy creature transformation. "This transformation takes the character to a kind half creature state" Shohadai explained. "We replaced his arms and portions of his body with CG creature counterparts." Luma's artists had to replicate portions of the actor's human structure in 3D and track it to the live action to make the transformation possible.
Luma's other contributions to Underworld included 3D prop animations and set extensions. They also produced mystical fluid effects and digital blood that squirts from various sources. Additionally, they performed extensive composites and wire removals.
"Underworld kept our team extremely busy," noted Shohadai. "We had to pull some really long hours during a period in which were working on five films simultaneously. We never missed a deadline and everyone was ecstatic about our work."
Underworld is Luma Pictures' second major studio film project to be released this year. The company also completed a large package of effects for Charlie's Angels: Full Throttle. Additionally, Luma Pictures performed effects work for Lakeshore Entertainments' The Human Stain, set for release later this month. In addition to other exciting and new film projects, Luma is currently working on another Lakeshore release, Wicker Park.
Related Links:
Tags: Luma Pictures, Underworld